Respecting Our Elders
The Wisdom and Value of Green-Wood's Veteran Trees
BY SARA EVANS MANAGER OF HORTICULTURE OPERATIONS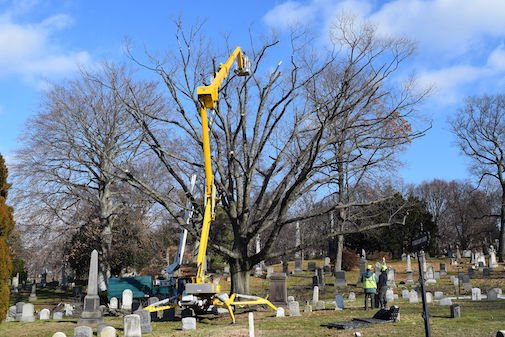 New York City's natural history is reflected in some of its oldest living organisms: its trees. When trees have endured the pressures of human development—and have the scars to show for it—they are known as veteran trees. Some at Green-Wood predate the Cemetery's founding in 1838, remnants of Brooklyn's forests. They include native oak, hickory, American beech, tulip, and sweetgum trees. About 300, or roughly 4%, of Green-Wood's Living Collection of trees carry this distinction.
To ensure an even longer life for each veteran tree, Green-Wood's Horticulture Department works with industry partners to support their natural aging processes—with minimal intervention. Our approach is to mirror the natural rhythms of a tree's life cycle, helping trees age gracefully while reducing risk to the public and to our monuments.
Preserving veteran trees is critical to safeguarding Green-Wood's historic character. But their benefit goes far beyond that. These grand, old specimens help Green-Wood to reduce its environmental impact. They mitigate stormwater runoff by capturing and storing rainfall in their canopy and releasing water into the atmosphere and store exponentially greater amounts of carbon than a younger tree. They are also great friends to wildlife, providing habitat to species ranging from rare fungi to common birds.
These wonderful old trees reflect nature's tenacity and its fragility. They are survivors. But they also remain ever vulnerable to the threat of the rapidly changing climate. As we work to maintain the health of our historic landscape, this special collection of trees will always be one of our most important constituents.
Green-Wood is a level III arboretum as accredited by ArbNet, one of only 27 in the world.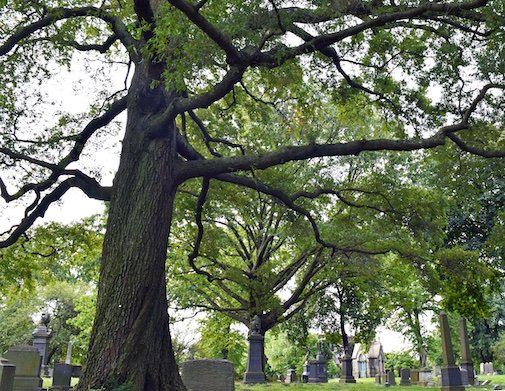 690
Unique Tree Species and Cultivar
63
Tree species added to the Living Collection in 2019
7457
Total Trees and shrubs across our 478 Acres