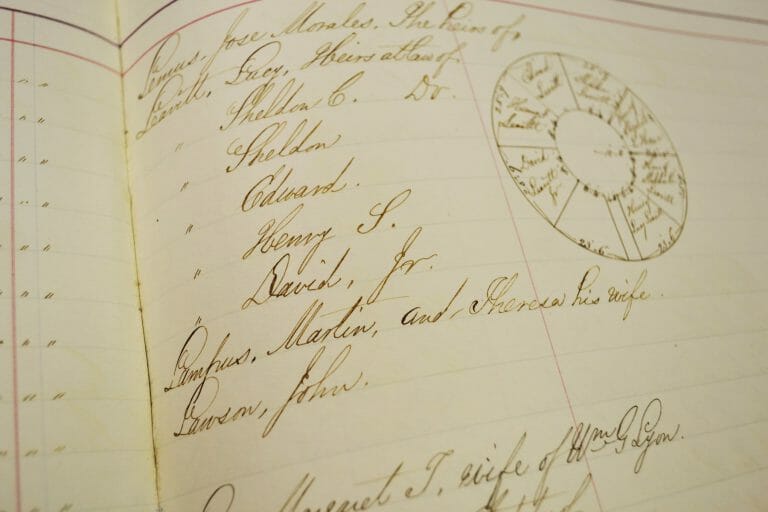 As one of New York City's oldest and largest cemeteries, Green-Wood is an extraordinary resource for genealogists and anyone seeking information about their family members.
With more than 570,000 burials, the earliest dating to 1840, Green-Wood estimates that its genealogical information relates to over 20 million individuals alive today. That translates to a massive volume of unique genealogical resources.
It's why we don't just call our services genealogy; we call it "Greenealogy."
Here's how it works
1. Fill out the form below and press send.
2. We then conduct our initial review (at no cost) and send you our research proposal for locating archival cemetery records that relate to your search.
3. We give you an estimate of how much time it will take to locate, copy and prepare those records and what it will cost. Research fees are $35.00 per half hour.
4. If you approve the charges, you use the link we provide to pay online.
5. After we receive payment, we conduct our research and prepare your personalized Set of Findings.
Please note: To research burials that took place fewer than 70 years ago, you must be a lot holder or a descendent of a lot holder. Please do not use this form. Instead contact the Executive Office at info@green-wood.com (messages are read within 48 hours of receipt). Please include the lot, grave, and section number if known in the subject line of the message and be sure to include a daytime phone number.
Fees
Our fees are $35.00 per half-hour of research, or part thereof. Research findings are delivered by email.
Members of Green-Wood (Dual level and above) receive a 10% discount on genealogy services. Enter your member ID at checkout.
We look forward to working with you
to discover your family's story.
What you can expect
There is often variation within the individual records, so we cannot guarantee a research outcome. In general, a Set of Findings may include:
Lot ownership details – name of original purchaser, and list of heirs, if available
Vital information for burials, such as:

date of death
age at death
address
married/widowed/single
cause of death

Burial Orders – copies of notes or letters from lot owners
Photographs of a burial lot, monument or inscription
Map of lot location
Begin right now
Our "greenealogists" are back in the office after a prolonged hiatus due to the health and safety concerns caused by COVID-19. They are working through a substantial backlog, but new inquiries are in our queue and will be answered as soon as possible.
Thank you for your understanding and patience during this difficult time. We hope you are staying safe and healthy.