Cemetery as Muse
Artists Interpret Green-Wood and Its Themes
BY HARRY J. WEIL DIRECTOR OF PUBLIC PROGRAMS AND SPECIAL PROJECTS

Over the past year, Green-Wood continued to reach new audiences through its programming in the visual and performing arts. We've forged partnerships with contemporary artists and local arts organizations to create dynamic exhibitions for which the Cemetery served as inspiration.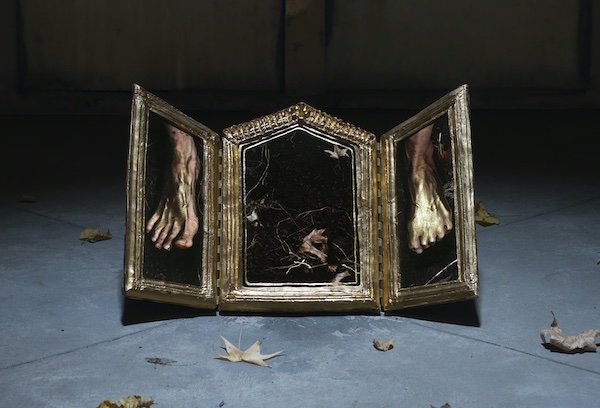 I am fertile ground
(Fall 2019)
Last fall, I curated a site-specific exhibition of sculptures by acclaimed artist Janine Antoni. They were created specially for Green-Wood's Catacombs.
Antoni was inspired by the power of physical gestures, or movements that communicate an idea or intention. We humans engage in them all the time, sometimes unknowingly and sometimes purposefully. Some are recognizable, like hands clasped in prayer, while others are personal and idiosyncratic. Antoni believes that such motions comprise a kind of library of wisdom that the body can intuitively access. Her depictions of these gestures were surrounded by elaborately gilded bones that correspond to each image. The artworks resembled religious icons.
Exhibited in the Catacombs, one of the Cemetery's oldest structures, I am fertile ground enabled visitors to engage with a space that is rarely open to the public. From the sophisticated art lover to the novice, visitors experienced an entirely original work in one of the most enthralling settings for art in New York City.
I am fertile ground was funded in part by the National Endowment for the Arts.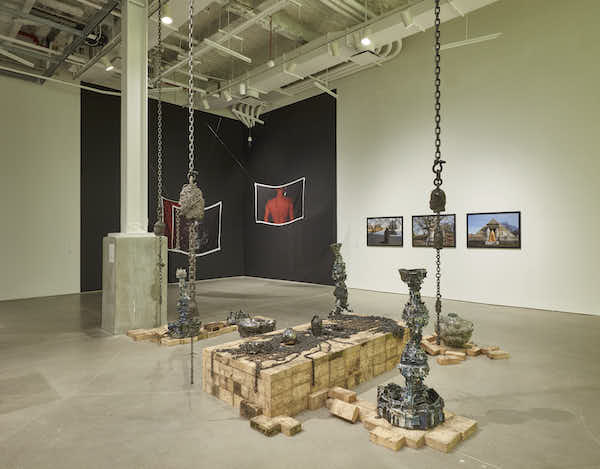 Death Becomes Her
(Spring 2020)
What lingers after loss? How do we, the living, respond to death? In history, in our families, in our communities? These questions, among others, served as inspiration for Death Becomes Her.
Presented in partnership with BRIC, a leading arts and media institution in Brooklyn, the collaborative exhibition explored how death and the grieving process impact the living. It featured works by eight outstanding female-identifying artists: Mimi Bai, Kim Brandt, Nona Faustine, Rachel Grobstein, Gyun Hur, Heidi Lau, Catalina Ouyang, and Keisha Scarville. The artists drew inspiration from a myriad of sources to expand the visual rhetoric of how the departed are remembered—examining both the ability of loss as a catalyst for self-discovery and its larger cultural and social associations.
Death Becomes Her was curated by myself and Jenny Gerow of BRIC, and exhibited at BRIC's gallery space in Downtown Brooklyn. This enabled Green-Wood to engage new audiences and to commission works specifically for the exhibition, which wouldn't have been possible on site.