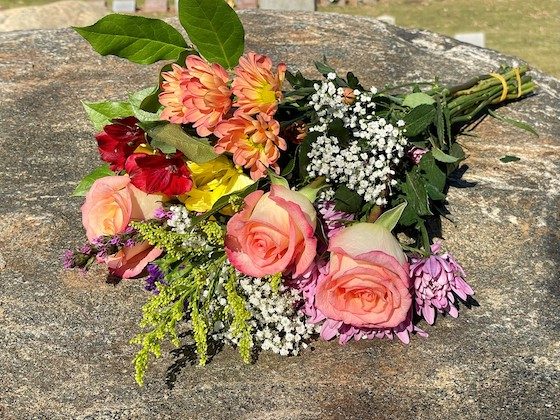 As a place of commemoration, Green-Wood knows the importance of rituals for remembering our loved ones. However, the accumulation of non-biodegradable items inevitably winds up in our water bodies and landfills.
Help Green-Wood sustain a safe and healthy environment by abiding by the following rules:
The following tributes are permitted:
Fresh flower bouquets. Plastic, cellophane, wire, and other materials that are not biodegradable should be removed before placement. Flowers will be removed when they expire. Artificial flowers are not permitted.
Evergreen arrangements during the winter holiday season. They are removed in February as weather permits.
Easter palm crosses. They are collected and discarded approximately two weeks after Easter during our annual spring clean-up.
The following items are prohibited and may be removed without notice:
Artificial flowers
Vigil lights
Candles
Name plates
Figurines
Framed images
Stationery and greeting cards
Toys
Balloons
Watering cans or other gardening tools
Food or beverages
Fences or borders of any material
Any trinkets or ornaments composed of plastic, glass, metal, or any non-biodegradable material.
PLEASE NOTE: Prohibited items will be removed without notice during regular mowing rotations (every 10-14 days). Cemetery-wide tribute "clean sweeps" occur in February, April, and September to remove seasonal tributes along with prohibited items. Everything will be removed from graves except fresh flower bouquets.
If you are a lot owner and would like to receive an electronic copy of Green-Wood's Regulations, please email us at info@green-wood.com indicating your lot and grave number in the subject line. For questions regarding removed tributes, please email tributes@green-wood.com.
COMMUNITY MAUSOLEUM AND COLUMBARIUM TRIBUTES
Tribute tables are available at all community mausoleums for the placement of flowers. In contrast to at gravesites, artificial floral arrangements are permitted in indoor mausoleum and columbarium spaces. Fresh cut bouquets are not allowed inside of mausoleums. Please limit the size of your flower arrangements to 7" wide x 10" high.
The placing of trinkets, ornaments, live plants, balloons, personal mementos and the like are not permitted, nor are floral arrangements placed on the floor. Please do not adhere anything to the surface of the crypt or niche, as it may damage the material. Prohibited items will be removed and disposed of without notice.
The Forever Flowers subscription service, through which you may embellish a family crypt with seasonal lifelike floral arrangements, is available in all community mausoleums. For details, view this brochure or call 718-210-3066.
The Celestial Light of Remembrance program is available in Hillside Mausoleum IV. Each crypt features a permanently installed light/vase unit (companion crypts are provided with two light/vase units) that may be activated through a subscription service. For details call 718-210-3066.
SPECIAL TRIBUTES
Adopt a Tree
Trees across Green-Wood's 478 acres may be "adopted" in honor of a loved one for a tax-deductible contribution to The Green-Wood Historic Fund. A plaque bearing the name of the person you are honoring or memorializing—as well as information about the tree—will be placed at the tree for a period of one, five, or ten years. Click here for more information.