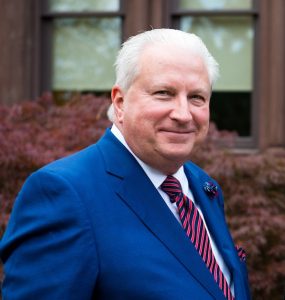 Dear Friends,
At no time in recent history has New York City faced a crisis like COVID-19. Cemeteries, including Green-Wood, have been pushed close to breaking point. The sheer number of deaths we deal with every day has physically and emotionally overwhelmed us.
But, at no time in my 48-years at Green-Wood have I ever been prouder of our dedicated staff who have worked around the clock to ensure that every family affected by a COVID-19 death is treated with the utmost respect and dignity in their time of deep sorrow. From the crematory operators, gravediggers, and groundskeepers to the creative minds of The Green-Wood Historic Fund; and from our security force to the tireless office staff, each of them has my undying respect and gratitude.
And while it's true that a quiet sadness has enveloped Green-Wood, as I look out my window and see the grieving mourners, I am also reminded that Green-Wood is a very special place—one that offers a peaceful oasis where everyone is welcomed to find serenity amidst the uncertainty and turmoil of the day. Knowing how important it is for New Yorkers to have access to a place to stroll, get fresh air, and commune with nature, we made the decision—unprecedented in my tenure—to open all four of our gates seven days a week and to keep them open until 7pm, every evening. We've even brought on extra personnel and recruited an army of volunteer "Green-Wood Ambassadors" to ensure that our visitors are safe and abide by the rules, including critically important social distancing protocols.
Sadly, at the same time, we have had to temporarily cancel all tours, cultural programming, special events, and even our award-winning masonry training initiative for young New Yorkers. To make up for the vacuum this created, we developed free remote and virtual programs that continued to provide inside access to Green-Wood's fascinating history, permanent residents, and magnificent natural landscape.
We also created "Green-Wood From Home," an ongoing series on Facebook and Instagram of short and entertaining videos that explore some of Green-Wood's great monuments and the stories behind them (via @historicgreenwood). Tens of thousands of you have already enjoyed these video excursions!
And, for even more access, don't forget to download the free Green-Wood app from Google Play or the App Store.
During this unprecedented time, one thing remains a constant: Green-Wood is a welcoming and tranquil oasis. Better days are just around the corner.
Until then, please stay safe and well,

Richard Moylan
President
P.S. As we go to press, we have learned of the passing of former Brooklyn Assemblyman Joe Ferris. Not only did he make a significant impact on the governance of Brooklyn, New York City, and New York State, but forever earned a place in our hearts at Green-Wood as a fierce protector of the historic sightline from Battle Hill to the Statue of Liberty. Joe was always on the frontline of the Battle of Brooklyn Commemoration and was instrumental in bringing the Irish Korean War Memorial to Green-Wood. He will be missed.