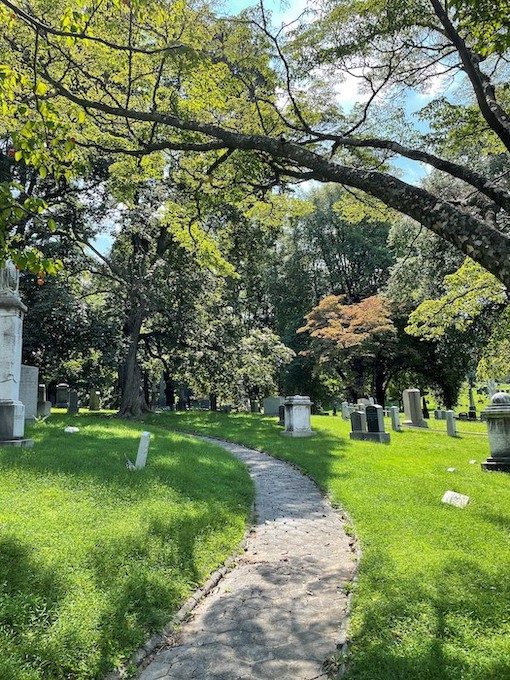 Employment
Green-Wood is hiring.
Come join our team!
We seek outstanding candidates to help us serve our community as a working cemetery and place of memorialization, National Historic Landmark, arboretum, and cultural institution.
Mission Statement: Green-Wood is a living cemetery that brings people closer to the world as it is and was, by memorializing the dead and bringing to life the art, history, and natural beauty of New York City.
Green-Wood is an equal employment opportunity employer that prohibits discrimination against applicants and employees on the basis of race, color, religion, sex, gender, national origin or ancestry, age, disability, pregnancy, sexual orientation, gender identity, marital status, domestic partner status, military or veteran status, citizenship status, and any other basis or characteristic protected by federal, state, or local law.
CURRENT OPENINGS
SCHOOL PROGRAMS EDUCATOR, PART TIME
The Workplace
The Green-Wood Cemetery was founded in 1838 as part of the Rural Cemetery Movement of the nineteenth century.  Today, it remains an active cemetery as well as a vital and vibrant cultural institution, National Historic Landmark, and accredited arboretum welcoming more than 400,000 annual visitors. Green-Wood's education department engages school audiences in exploration of the histories of some of our 570,000+ "permanent residents"; nature thriving across our 478 acres of urban green space; and the artistry of our more than 200,000 monuments and mausoleums as well as public artworks and exhibitions.
The Position
Green-Wood's education department teaches a variety of programs for Pre-K through 12th grade students year-round. We are a new and dynamic department just beginning to interpret Green-Wood and its mission for young people. School programs educators will be joining a flexible and curious team.
Most programs we teach are on American historical and art historical themes from the eighteenth through twentieth centuries; however, successful candidates for the position will mainly be interested in teaching environmental education programs on the following topics: Air Quality and the Urban Heat Island Effect, Pollinators and Biodiversity, Native and Invasive Species, Phenology, Bird Behaviors, and anything else developed by the environmental education team.
School programs educators will train for and lead programs as assigned to them in a bi-weekly schedule. This is a per diem position so teaching and non-teaching work will vary week to week. School programs educators work under the Director of Education and in coordination with the Manager of Environmental Education.
Job Responsibilities
Lead 45-minute to two-hour programs on environmental/nature-based, American historical, or art historical themes. These programs will be taught outdoors in hilly terrain using curricula provided by Green-Wood.
Assist in research and development of new programs as needed.
Perform administrative and program coordination work as needed.
Participate in ongoing training and professional development.
Lead occasional professional development for school teachers and staff.
Assist with marketing and outreach efforts with NYC schools.
Assist with program evaluation as needed.
Occasional weekday evening, weekend, and holiday work as needed.
Occasional work with family programs as needed.
Create a welcoming, safe space for all visiting students and school staff from all backgrounds.
Personal Qualifications
Full vaccination for COVID-19
Bachelor's Degree in relevant subjects related to environmental studies, education, American history, art history, or museum studies.
Experience working with school-aged children in a formal or informal learning environment.
Cultural competence to work with communities of color and immigrant communities in south Brooklyn, including predominantly Asian American and Latinx communities in Sunset Park.
At least two days/week of availability to be assigned work between 9am and 6pm
Availability through at least the end of summer 2023.
Ability to lead walking tours in hilly terrain in varying weather conditions.
Strong background and interest in teaching diverse environmental education topics, and about varying experiences and perspectives in American history, including but not limited to the roles, voices, and movements of women, people of color, immigrants, LGBTQ+ persons, and religious and other minorities.
Solid computer skills including Microsoft Office Suite.
Interest in working for a growing, developing educational department.
Professional maturity, reliability, good judgment, integrity, warmth, and trust.
Strongly preferred
Ability to teach in Spanish, Mandarin, Fuzhounese, or Arabic.
Familiarity with NYC Scope and Sequence, standards, and best practices for teaching American history, art history, and/or environmental education.
Experience leading outdoor programs for school-aged children.
Experience teaching with monuments and/or memorials.
Demonstrated interest in building community, social justice initiatives, and/or fostering cross-institutional partnerships.
Compensation: Teaching= $50/hr; Prep/research/admin/all non-teaching work= $25/hr
Application Instructions
Please submit a resume and cover letter to education@green-wood.com with the subject "School Programs Educator" or mail to Education, The Green-Wood Cemetery, 500 25th St., Brooklyn, NY 11232.