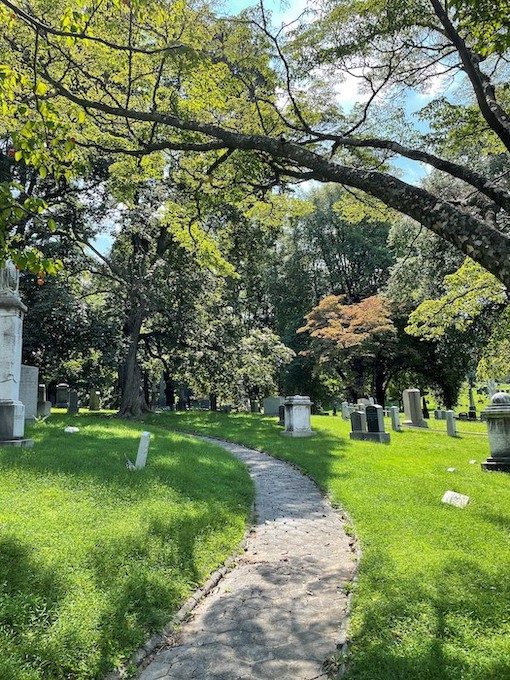 Employment
Green-Wood is hiring.
Come join our team!
We seek outstanding candidates to help us serve our community as a working cemetery and place of memorialization, National Historic Landmark, arboretum, and cultural institution.
Mission Statement: Green-Wood is a living cemetery that brings people closer to the world as it is and was, by memorializing the dead and bringing to life the art, history, and natural beauty of New York City.
Green-Wood is an equal employment opportunity employer that prohibits discrimination against applicants and employees on the basis of race, color, religion, sex, gender, national origin or ancestry, age, disability, pregnancy, sexual orientation, gender identity, marital status, domestic partner status, military or veteran status, citizenship status, and any other basis or characteristic protected by federal, state, or local law.
CURRENT OPENINGS
SCHOOL PROGRAMS EDUCATOR, PART Time
The Workplace
The Green-Wood Cemetery was founded in 1838 as part of the Rural Cemetery Movement of the nineteenth century. Today, it remains an active cemetery as well as a vital and vibrant cultural institution, National Historic Landmark, and accredited arboretum welcoming more than 400,000 annual visitors. Green-Wood's education department engages school audiences in exploration of the histories of some of our 570,000+ "permanent residents"; nature thriving across our 478 acres of urban green space; and the artistry of our more than 200,000 monuments and mausoleums as well as public artworks and exhibitions.
The Position
Green-Wood's education department teaches a variety of programs for Pre-K through 12th grade students year-round. We are a new and dynamic department just beginning to interpret Green-Wood and its mission for young people. school programs educators will be joining a flexible and curious team.
In response to the challenges of COVID-19, we have adjusted our programming to include virtual lessons in addition to outdoor walking and trolley-based programs. We practice stringent COVID-19 safety protocols according to the guidance of the CDC and local laws. Successful candidates for the position must be willing to teach virtual and on-site programs. Most programs we teach are on American historical and art historical themes from the eighteenth through twentieth centuries; however, we also have one program on phenology (changing seasons) for early childhood and are expanding environmental education programming in the coming years.
School programs educators will train for and lead programs as assigned to them in a bi-weekly schedule. This is a per diem position so teaching and non-teaching work will vary week to week. School programs educators work under the Director of Education.
Job Responsibilities
Lead 45-minute to two-hour programs on American historical, art historical, or nature-based themes. These may be outdoors, in hilly terrain, or virtually, using curricula provided by Green-Wood.
Assist in research and development of new programs as needed.
Perform administrative and program coordination work as needed.
Participate in ongoing training and professional development.
Lead occasional professional development for schoolteachers and staff.
Assist with marketing and outreach efforts with NYC schools.
Assist with program evaluation as needed.
Occasional weekday evening, weekend, and holiday work as needed.
Occasional work with family programs as needed.
Create a welcoming, safe space for all visiting students and school staff from all backgrounds.
Personal Qualifications
Bachelor's Degree in relevant subject related to American history, art history, environmental studies, museum studies, or education.
Experience working with school-aged children in a formal or informal learning environment.
Cultural competence to work with communities of color and immigrant communities in south Brooklyn, including predominantly Asian American and Latinx communities in Sunset Park.
At least two days/week of availability to be assigned work between 9am and 6pm.
Ability to lead walking tours in hilly terrain.
Strong background and interest in teaching diverse experiences and perspectives in American history, including but not limited to the roles, voices, and movements of women, people of color, immigrants, LGBTQ+ persons, and religious and other minorities.
Solid computer skills including Microsoft Office Suite.
Interest in working for a growing, developing educational department.
Professional maturity, reliability, good judgment, integrity, warmth, and trust.
Strongly preferred
Ability to teach in Spanish or Mandarin.
Familiarity with NYC Scope and Sequence, standards, and best practices for teaching American history, art history, and/or environmental education.
Experience leading outdoor programs for school-aged children.
Experience leading virtual programs for school-aged children.
Experience teaching with monuments and/or memorials.
Demonstrated interest in building community, social justice initiatives, and/or fostering cross-institutional partnerships.
Compensation: Teaching= $50/hr; Prep/research/admin/all non-teaching work= $20/hr
Application Instructions
Please submit a resume and cover letter to education@green-wood.com with the subject "School Programs Educator" or mail to Education, The Green-Wood Cemetery, 500 25th St., Brooklyn, NY 11232.
Memorial Counselor, Full Time
The Position
Green-Wood's memorial counselor's primary function is to meet with our customers to discuss all available memorial purchase options. The memorial counselor will educate the purchasing family on the different types of disposition options, including ground burial, entombment, and cremation, and then assist in choosing the specific right-of-interment item for purchase. The counselor will also explain all cemetery rules and regulations of both Green-Wood and New York State, and prepare all the pertinent sales paperwork, as well as a burial order for any at-need families. The memorial counselor must demonstrate compassion, understanding, and caring for bereaved families during difficult times when they need assistance. The counselor reports directly to the Operations Manager, and works collegially with staff and management of the Cemetery.
Job Responsibilities
Assist families on both an immediate-need and pre-need basis with purchasing graves, crypts, and niches.

Escort families through the Cemetery grounds to view all available purchase options
Keep meticulous records and submit all documentation in an accurate and timely manner – deeds, selections, contracts, etc.
Interact with funeral directors in a professional and collegial manner
Act as quality control liaison between and among families, funeral professionals, and cemetery staff

Work in partnership with administrative staff to support families during the sales process

Work with surveyor on preparing new sales areas to meet needs of customers
Prepare paperwork for memorialization at mausoleums, and act as liaison with inscription contractor; verify accuracy of inscription location and wording
Schedule at-need interments, entombments, etc. with Admin Office
Work with cashier to process all payments of purchases and service fees
Provide back-up services when needed to Admin Office – answer phones, assist visitors, schedule interments/cremations, etc.
Visit purchase sites on a regular basis to ensure cleanliness and safety of areas – request sinkholes at grave areas be repaired, etc.

Prepare all required sales reports

Keep track on a monthly basis of all sales and report to the Operations Manager
Observe sales trends and regularly report recommendations/findings to upper management
Personal Qualifications
A mature and seasoned professional with an empathetic and caring attitude
Comfort dealing with varied audiences, including interacting with families, funeral directors and staff
Highly organized with the ability to manage multiple tasks simultaneously, demonstrating an attention to detail and ability to work in a regulated environment
Must be a licensed driver in order to navigate 478 acres of Cemetery property
Flexible, open to continued learning, and strong work ethic
Must be vaccinated for COVID-19
Compensation: Competitive salary and benefits package, in accordance with Green-Wood's employee benefits program.
Location: In-person at The Green-Wood Cemetery, 500 25th Street, Brooklyn, NY 11232
Application Instructions
Please submit a resume and cover letter to info@green-wood.com with the subject "Memorial Counselor."