An exciting new book has just been published: "Guide to New York City Urban Landscapes." It is by Francis Morrone and Robin Lynn, with photographs by Edward A. Toran. The foreword is by Pete Hamill.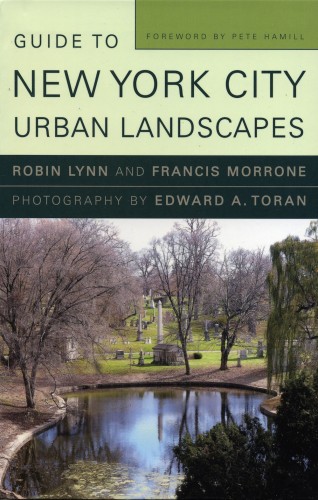 It features Green-Wood on its cover, an introduction by Green-Wood's president, Richard Moylan, and a tour of Green-Wood. In all, 38 places, some well-known, some more obscure, throughout the five boroughs, are highlighted.
Sam Roberts, in his "Bookshelf" column in The New York Times, recently wrote:
The city offers prospects as beautiful and sublime as any in nature, as Robin Lynn and Francis Morrone amply demonstrate in their "Guide to New York City Urban Landscapes" (Norton, $29.95), a helpful and insightful pathfinder to 38 inviting sites.
Their tour of places both familiar and not so, including Four Freedoms Park, Green-Wood Cemetery, the East River waterfront, Governors Island and Grand Army Plaza, is introduced by Pete Hamill, who invokes our longing for: "The beauty of nature. Of space at ground level. Of lovely vistas carved from ugliness by human beings."
The guide is accompanied by photographs, maps and details about each site.
Green-Wood is the oldest landscape featured in the book. On Saturday, July 20, at 5:00 p.m., a free book launch party, with the authors, will be held in Green-Wood's Historic Chapel. You will find more information about that event here.