(Sold Out) 5 p.m. Book Launch Party for 'Guide to New York City Urban Landscapes'
July 20, 2013, 5:00pm

–

7:00pm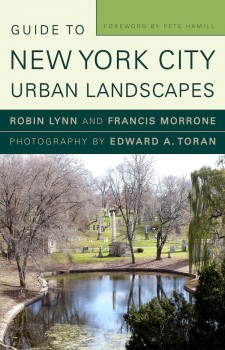 Guide to New York City Urban Landscapes
by Robin Lynn and Francis Morrone, with photographs by Edward A. Toran
Foreword by Pete Hamill
Published by W.W. Norton & Company
Thank you for your interest in this event, but we have reached capacity and will not be registering any more attendees. Please check our calendar for other upcoming events that may interest you.
Since the moment bustling New York was founded, its residents have yearned for fresh, green space and a temporary respite from urban life. Green-Wood is one such space and is proud to be featured in -– and on the cover of — this wonderful new book starring 38 stunning public places that shape the New York experience.
Discover newly created spaces along the water's edge, like Brooklyn Bridge Park; repurposed areas like The High Line and Concrete Plant Park in the Bronx; or the more traditional green spaces. As the oldest urban landscape in the book, Green-Wood served as a direct inspiration for many of these sites, including Central Park and Prospect Park. You'll enjoy hors d'oeuvres and drinks at this opening soiree, while the authors tell us how they selected these gorgeous outdoor spaces.
Co-author Francis Morrone's essays have appeared in the Wall Street Journal and the New York Times; he was named by Travel + Leisure magazine as one of the best tour guides in the world. Pick up a copy or two and get your book signed! It's a must-have for those who love urban New York but also cherish the ability to escape its daily strain.
A Guide to Urban Landscape will be available for purchase.