This past Saturday, the "Angel of Music," a great bronze angel sculpture in tribute to music giant Louis Moreau Gottschalk (1829-1869), who is interred at Green-Wood Cemetery, was unveiled at his grave.
Gottschalk was America's first matinee idol and its first international music superstar. While conducting an orchestra near Rio de Janiero in his own composition, "Morte," Gottschalk collapsed. Within days, he was dead. A huge funeral was held in Brazil and he was buried there. But his family brought his remains back to New York and he was interred at Green-Wood. His family held fund-raising concerts and placed a marble monument over his remains–a base with his name and life dates carved into it, topped by an angel holding a tablet upon which the names of his greatest hits were carved. But, as we discovered recently, the angel was vandalized and shattered in 1959. (To read about our recent discovery of this vandalism, click here).
Richard Moylan, Green-Wood's president, began a campaign about 15 years ago to replace the missing Gottschalk angel. Concerts were held and contributions were made. And, finally, this past Saturday a large crowd gathered for the unveiling of the result of that campaign: the "Angel of Music."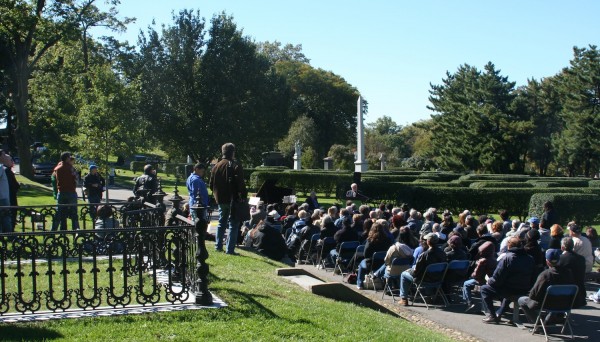 Captain Ken Force, director of the Merchant Marine Academy band, spoke of Gottschalk's importance to music. Joseph Bresnan, who with his restoration partner and wife, Adrienne, has done tremendous work on Green-Wood's Arches, Historic Chapel, and many other projects, talked about Green-Wood's restoration accomplishments. S. Frederick Starr, author of the best biography of Gottschalk, "Bamboula! The Life and Times of Louis Moreau Gottschalk," discussed Gottschalk as a historical and musical giant. He concluded his remarks with this:
Gwen Pier, executive director of the National Sculpture Society, talked about Green-Wood as a sculpture garden and about the joint effort that was made, and ultimately succeeded, in finding the right sculptors for this piece.
John Davis, a huge Gottschalk fan and a wonderful pianist and performer, explained what makes Gottschalk's music so extraordinary, then played examples of it on a Steinway grand piano. (The largest tomb at Green-Wood, with room for 256 caskets, is that of the legandary piano-making family, the Steinways). Here's a brief sample of John's work, which well-demonstrates John's passion for Gottschalk:
Then, it was time to unveil the "Angel of Music." The sculptors–Giancarlo Biagi and Jill Burkee, the winners of a juried design competition, joined by Green-Wood President Richard Moylan, did the honors, removing the drape that had been covering it to reveal it to the world.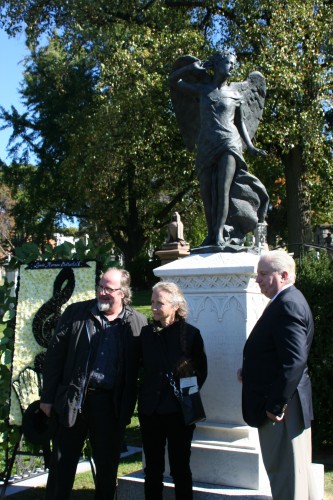 The program concluded with a stirring rendition of Gottshalk's "Slumber On, Baby Dear: A Mother's Cradle Song," performed by the trio of John Davis on piano, April Matthis vocalist, and Jeffrey Lederer on clarinet.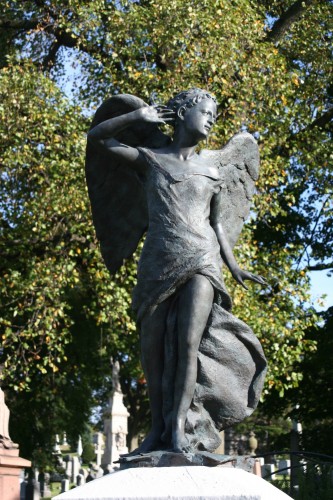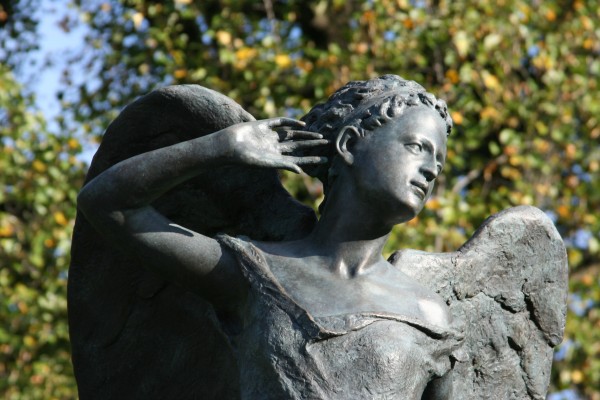 Then it was off the the Historic Chapel for a reception. An exhibition of Gottschalk material, including music sheets, cartes de visite portraits, United States Postal Service stamps issued to honor Gottschalk, and even a switch plate with Gottschalk's portrait on it, were on display, from the collections of John Davis and The Green-Wood Historic Fund. All attendees got a copy of Professor John W. Barker's booklet, "Louis Moreau Gottschalk at Green-Wood Cemetery: An Unexpected Epilogue to A Brilliant Career," published by The Green-Wood Historic Fund in 2010.
We certainly hope that Louis Moreau Gottschalk would be very proud that, all these years after his death, he has been remembered at Green-Wood.
If you would like to see the "Angel of Music" at the foundry, you may find the blog post, "Angel On Its Way Home," here. And here and here are posts on earlier work in the Gottschalk Lot that led up to this day.