The Fourth Annual Presentation of the De Witt Clinton Award
for Excellence
to
Pete Hamill
Thursday, September 15 * 5:30 to 8:30 p.m.
5:30 p.m.
Hors d'oeuvres and cocktails al fresco, featuring Governor De Witt Clinton's favorite drink.
Also: VIP Reception with Mr. Hamill for members of the Host Committee, board members, and VIP ticket holders until 6:30 p.m.
6:45 p.m.
Presentation of the 2011 De Witt Clinton Award for Excellence to Pete Hamill.
Also Featuring:
Impromptu short scenes from Brooklyn Underground: Theatrical Stories from the Green-Wood Cemetery
Guided mini-tours on our historic trolley with Green-Wood historian, Jeff Richman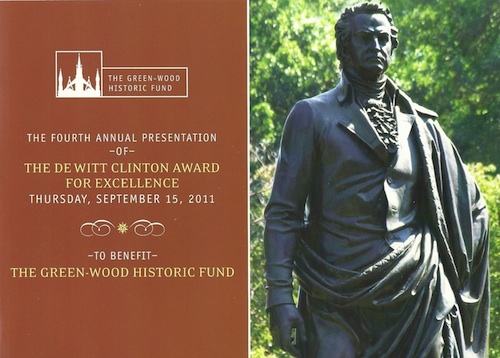 Pete Hamill is an American journalist, novelist, essayist, editor, educator and native Brooklynite. With over 50 years of experience in the newspaper business, Hamill served as editor of the New York Post and editor in chief of the New York Daily News and has written for the Village Voice and New York Newsday. He is the author of 21 books, including the novel Tabloid City, which was published this year. Hamill has written fondly and frequently about Green-Wood and has described it as "one of the great urban glades, a spot with lush foliage, and sudden hills." Hamill has also said, "When they cart me out to Green-Wood, it'll just say 'Newspaperman' on that piece of stone that says who the hell the former guy is that's lying under it."
The DE WITT CLINTON AWARD FOR EXCELLENCE in the Arts, Literature, Preservation and Historic Research honors the legacy of 19th-century New York Governor De Witt Clinton, who also served as mayor of New York City, state senator, assemblyman and United States senator. Clinton, who is interred in Green-Wood Cemetery, was a devoted supporter of the cultural growth of the city and the state of New York.
Call or email Lisa Alpert for more information at 718.210.3011 or lisa_alpert@green-wood.com.