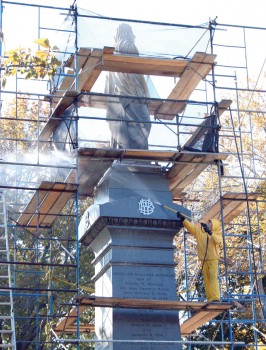 The Green-Wood Historic Fund's mission is to maintain Green-Wood Cemetery's monuments and buildings of historical, cultural and architectural significance and preserve the natural habitat and parklands of one of New York City's first green spaces. The Historic Fund fulfills its mission through funding, donations and membership. Please help us preserve the past to enrich the future by becoming a Historic Fund member today.
Green-Wood's in-house Restoration and Preservation Department works on dozens of vital restoration projects each year, from routine cleaning and minor maintenance to emergency intervention and preventative treatments. Additional projects are undertaken by some of the country's finest conservation firms. Click here to read more about recent restoration projects, and click here for restoration photo galleries.
Saved in Time, the Historic Fund's program to preserve the historic monuments of the Cemetery, has, since its inception in 2002, stabilized and conserved several of the Cemetery's most critically deteriorating monuments. Recent restorations include cleaning the bronze and granite monument of William Wheatley, co-producer of the first American musical, The Black Crook (1866), and theatrical agent for actor John Wilkes Booth; cleaning the granite baseball-topped column and bronze bats, mask and mitt ornaments of "Father of Baseball" Henry Chadwick's monument; and bronze recasting of the four deteriorated zinc life-size military figures of the Civil War Soldiers' Monument. Click here to read more about Saved in Time and its ongoing and completed projects.