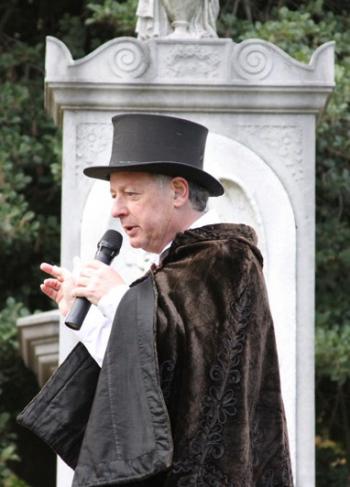 I've been leading tours at Green-Wood Cemetery since 1990. So, if my math is right, that's 21 years worth of tours. And I've been leading Halloween tours of Green-Wood for about 15 years. It will come as no surprise to you: cemetery tours on Halloween are a big draw. So, each year since about 1995 or so, I've done two Halloween tours on the weekend before Halloween. They have drawn very well over the years: typically, anywhere between 100 and 200 people have attended on each Saturday and Sunday. But this past weekend of Halloween tours was special. The weather was good both days, sunny and not too cool, though a bit breezy. And, with increased media coverage, and an ever increasing e-mail list, we were able to break all records. In all, we had a total of 600 people on the two tours.
My costume for the tours has been the same for years now: top hat, cape, and a Halloween vest. I dress as a 19th century carriage driver, about to take his tourists across the Green-Wood grounds. In my early days of doing these tours, I used a bull horn that I had purchased at Radio Shack. But, like so many things at Green-Wood, we've come a long way with our sound system. We now use a wireless mic and a very good sound system, so people can hear what I'm saying.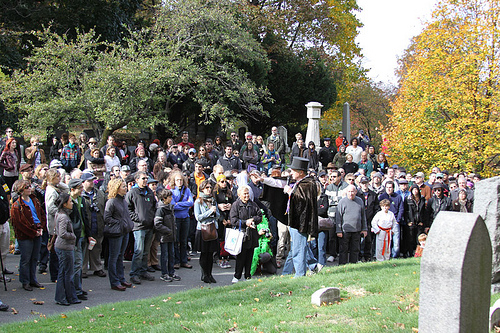 My typical tour of Green-Wood involves the history of the cemetery, its hills, trees, sculpture, restoration projects, gardens, ponds, birds, architecture, and its people. But my Halloween tours are much more focused on Green-Wood's permanent residents: murderers and their victims, the founders of Spiritualism, the Wizard of Oz, and just strange stories. We also always go into the Catacombs, a special adventure for visitors. Because we have so much material to work with, on Saturday I do the Left Tour–we walk to the left up towards Battle Hill and beyond. On Sunday we do the Right Tour, walking towards the Historic Chapel and beyond. The Left Tour and the Right Tour only have about 20% in common.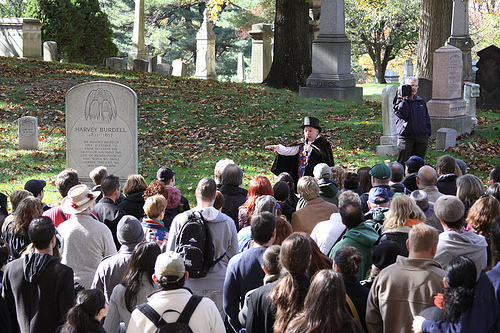 Here we are at the grave of Dr. Harvey Burdell, who was murdered on Bond Street in Manhattan in 1857. This photograph was taken on Sunday's tour. We visit the grave of Emma Cunningham on the Saturday tour. She was Burdell's lover and stood trial for his murder; you can read about them in Ben Feldman's book, Butchery on Bond Street, available here.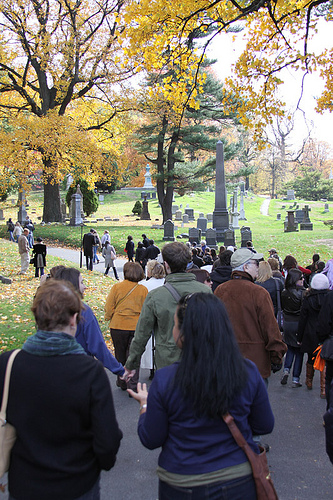 It really is an honor doing these tours. As I walk in front of the group, with hundreds trailing behind me, I think about my next stop. But I also think about what a magnificent place Green-Wood is, and try to stop myself for a few moments to enjoy the fall foliage (here's one of my favorite trees, just coming in at top right, a great tulip poplar that is a warm yellow in the fall) and the beauty of Green-Wood.
Thanks to all of our volunteers who helped greet our tour-goers, collect fees, and get everything running smoothly. And thanks to Mark and Phil, who carried the speaker on Saturday and Sunday, respectively. Thanks to Aaron Brashear, who took these wonderful photographs. But, most of all, thanks to all of you who joined me on these Halloween tours. I'm looking forward to next year. Hope you are too!