Update, 1/4/17: Thanks for visiting, redditors! We've just posted below a portrait of Brooklyn Mayor Charles Schieren, whose grave Azrael marks. Please also consider reading our historian's latest updates here, subscribing to our email newsletter, or following us on Instagram / Twitter / Facebook. Even better, come visit us in Brooklyn, while you can still leave!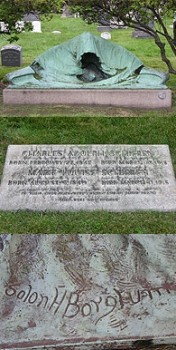 Sculptor: Solon H. Borglum
Location: Fir Avenue between Grape Avenue
and Border Avenue
Saved in Time Estimate: $10,000
For conservation of bronze sculpture and re-alignment and setting of six headstones (details below).
The powerful symbolic feature of the Schieren Memorial is the bronze sculpture of Azrael, the Spirit of Death, by Solon Borglum. Solon was the exceptionally fine, but somewhat less popularly known sculptor brother of Gutzon Borglum, famous for his portraits of four Presidents on Mount Rushmore, South Dakota. At the turn of the century, it was Solon who was internationally recognized as "probably the most original sculptor this nation has produced." Azrael, the Spirit of Death, is a striking work that physically captures the dreadful mystery and sorrow of death at the moment when, for believers among Jews and Muslims, "she is the angel who separates the soul from the body."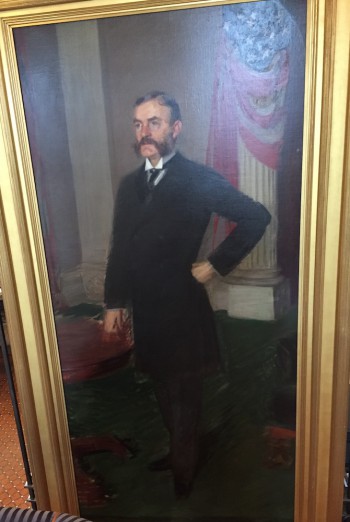 Charles Schieren had served as Mayor of the City of Brooklyn from 1894 through 1895 (many Brooklyn Mayors served only two year terms), and was a successful businessman in the leather belting industry. In March 1915 at the age of seventy-three, he and his wife Marie Louise died within hours of each other, both of pneumonia, and were buried together in a double funeral. Their headstone set before the sculpture bears the inscription: "IN THEIR LIVES THEY WERE LOVELY AND IN THEIR DEATH THEY WERE NOT DIVIDED."
The Azrael figure is concealed in a hooded cloak, her face deeply recessed and only visible to one willing to kneel below the overall 40 inch height of the piece on its granite plinth. Her arms are stretched out to each side with fingertips touching large closed books, symbolizing the "fullness of their years." The sculptor, who was a personal friend of the Schieren family, was inspired to create a unique work, very different from cemetery memorials of the period. The bronze sculpture was cast by the Gorham Co. Founders, N. Y.
The bronze sculpture is in whole and sound condition, well-anchored, and exhibits typical oxidation due to many decades of exposure without benefit of protective coatings or wax to inhibit corrosion. Nonetheless, the coloration and degree of contrast of the piece has resulted in a hauntingly appropriate appearance in keeping with the theme and artistic quality of the sculpture. It is desirable that conservation of the bronze preserve its present appearance while introducing a protective coating to inhibit future oxidation.
The one-piece, chamfered, pink granite plinth is in excellent condition. The six inscribed granite headstones require resetting to proper level and pitch to improve their presentation and the dignity of the plot.