What a very special Green-Wood weekend!
This year, for the 10th year in a row, The Green-Wood Historic Fund took part in openhousenewyork, a celebration of architecture and design in the Big Apple. But this year was different. Last year, for the very first time in Green-Wood's long history (174 years and counting), we opened up mausoleums at Green-Wood to the public. This year, we opened up a total of 13 mausoleums–but two of them were opened for the very first time.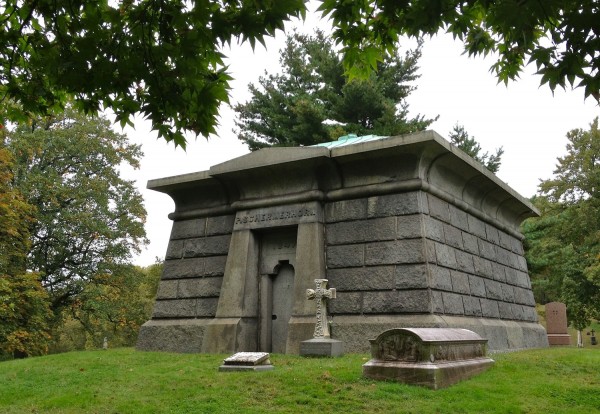 But, beyond that, we also stepped it up this year: volunteer actors, costumed and in character, portrayed the historical figures who are interred at Green-Wood inside tombs and near graves.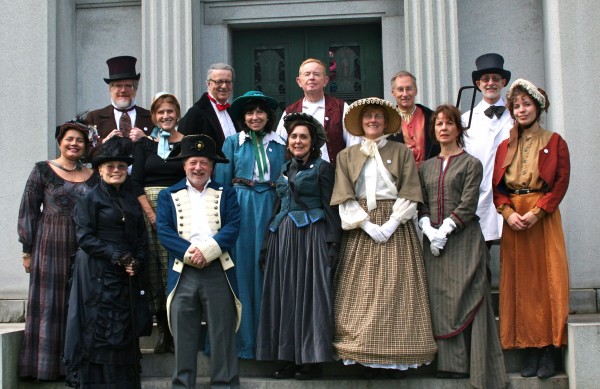 Saturday was warm and humid, but a big crowd of several hundred turned out to enjoy the event and support The Green-Wood Historic Fund. Twenty costumed-volunteers worked from scripts, and from their own research, to portray fascinating individuals such as Dr. Valentine Mott, the greatest surgeon of his time (volunteer Mark Carey here):
Visitors also got to meet Martha Bullock Roosevelt, the mother of President Theodore Roosevelt, and actress Maggie Mitchell (volunteer Marge Raymond, who sang one of the most haunting songs of the 19th century, "Beautiful Dreamer:"
Actor Frank Morgan (best-known for his portrayal of "The Wizard of Oz" in the Judy Garland classic movie of that title), was also out on the grounds near his grave: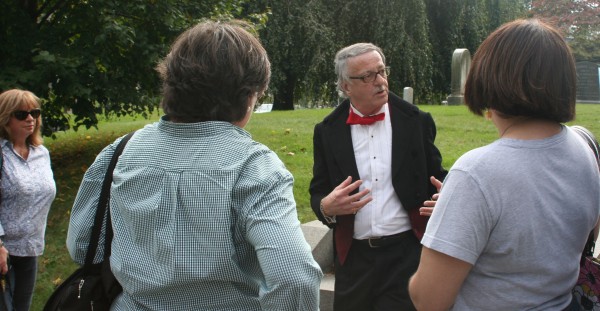 Also out to greet visitors: Mr. and Mrs. Frederick Bourne of the Singer Sewing Machine Company (a sewing machine from a century ago, from The Historic Fund's Collections, was on display), the sculptor Adolfo Apolloni (near his great bronze sculpture, the Valentine Angel), Commondore Garrison and Mrs. Garrison, Captain Robert Willmott of the Morro Castle disaster of 1934, Mr. and Mrs. William Niblo, Boss Tweed (speaking, at times, through the actual prop that was used in "The Gangs of New York"–Boss Tweed's speaking trumpet), and the Steinways (of piano fame).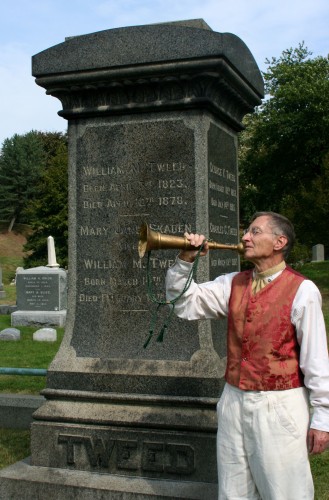 Sunday, the rainy and cool weather created quite a challenge, both for cast and visitors. But, despite the weather, everything worked out great. All of those who had purchased tickets in advance made it to the event. And, even more remarkably, many people came as walk-ups, despite the weather. Though there had been plans to have many characters spaced across the grounds, rain made that impossible, so adjustments were made and actors retreated to the porticoes of the opened tombs. A host of characters were out, telling their stories and answering questions about their lives. Actress Kate Claxton, of the Brooklyn Theatre Fire, talked about the fateful night of December 5, 1876, when the Brooklyn Theatre, where she was performing, caught fire with the loss of almost 300 lives–103 of whom are buried in the Brooklyn Theatre Fire Lot at Green-Wood. An actress from "The Black Crook," America's first musical (the producer and several others involved in the production are interred at Green-Wood), sang the hit song from that production, "Oh, You Naughty, Naughty Men." John Anderson and Mary Rogers, the "Beautiful Cigar Girl" whom Anderson was suspected of having murdered, were reunited. Mrs. Van Ness spoke of her family's tomb.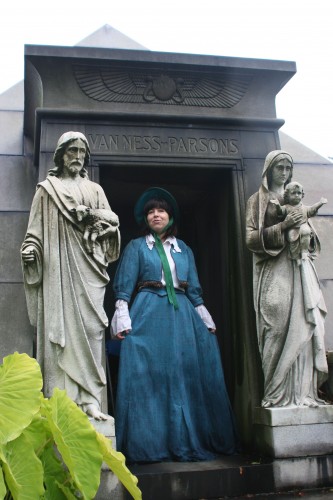 And Dr. Thomas Durant, the man who drove the Golden Spike to complete the Transcontinental Railroad, had sledge hammer and spike in hand as he told his story. Just down the road, the Widow Howe (played by Ruth Edebohls) talked about her late husband, Elias Howe, the inventor of the sewing machine, and the family dog, Fannie–who has her own monument at Green-Wood, with a very Victorian love poem on it:
Then it was off to see William Kingsley, the builder of the Brooklyn Bridge, standing next to his gravestone, a granite block that, according to the inscription on the bronze plaque, was formerly a part of that bridge.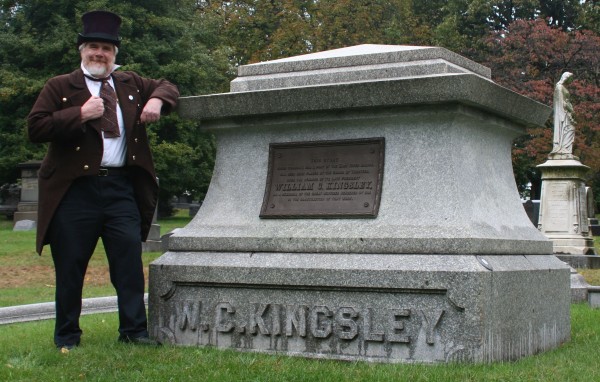 The Gilseys, the Chaunceys, the Schermerhorns, and the Morgans all had their doors open, greeting guests inside their mausoleums.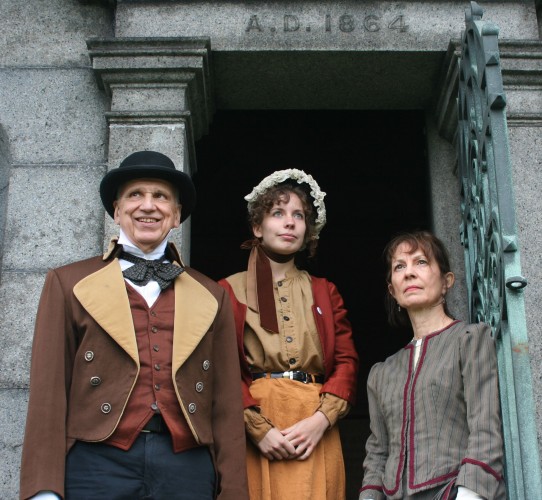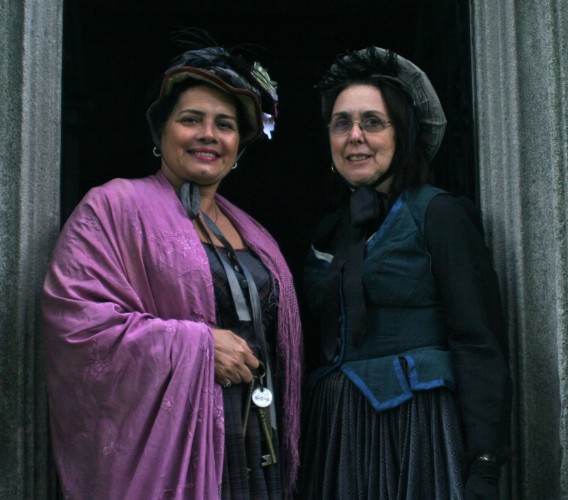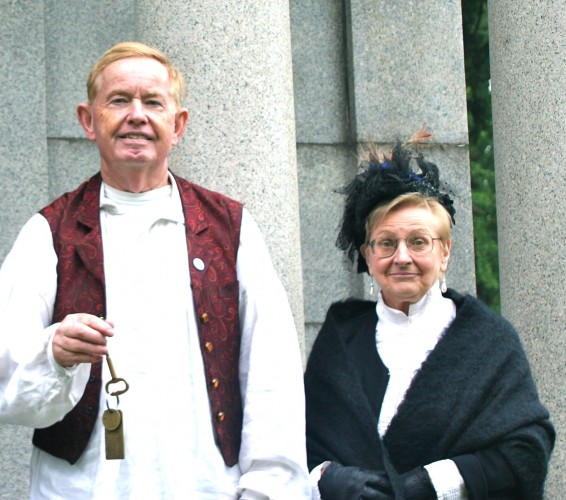 And two singers, Marie Depalma and Tracy Garrison-Feinberg, harmonized for "Danny Boy" and "Amazing Grace."
James S. T. Strananhan, the "Father of Prospect Park," was out near his grave, as was Louis Comfort Tiffany, describing his pioneering work with stained glass.
And special thanks to Ben Feldman, a longtime Green-Wood volunteer who is working on a biography of  the most important theatre owner of mid-19th-century New York City, William Niblo. Ben a Alyson Pou, a theater veteran, put together their own elaborate production that was staged on the steps of the Niblo Hillside Mausoleum. It was a tremendous hit, drawing raves from attendees.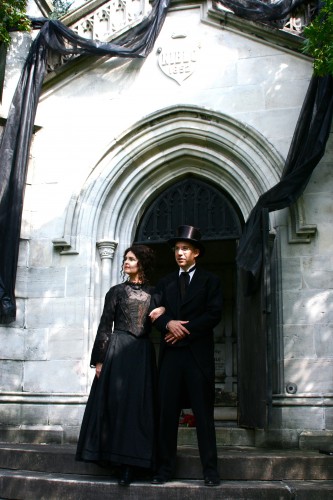 It was quite a remarkable and rewarding day. Feedback was very positive and the cast–who researched their characters– were all thrilled–who knew we had such a group of hams? Great thanks to all of you who attended these tours and supported our Historic Fund–and to all of our dedicated volunteers who made this event such a tremendous success.