This Saturday and Sunday, volunteers, in character and costume, will fan out across Green-Wood's grounds to present a production like no other: "Open 'Houses."
Last year, for the first time, the Green-Wood Historic Fund opened up many of its mausoleums to the public for the first time. For the blog post on that weekend, click here.
We decided, this year, to take it up several notches. So, not only will we have our doors open (seven mausoleums on Saturday–including the rarely-opened Catacombs and that of William Niblo (author Ben Feldman, who is working on a biography of Niblo, will be putting on a theatrical production there, as Mr. Niblo) and an entirely different group of six tombs on Sunday– including that of Peter Schermerhorn and Peter Gilsey for the very first time. And, beyond that, we will have costumed guides. And the costumed guides will be in character–you will have Peter Schermerhorn and his wife showing you around their abode! We will also have several singers performing 19th-century tunes. Such luminaries as Louis Comfort Tiffany, Peter Cooper, and Boss Tweed, among others, will be on hand to tell you their stories. It will be fascinating!
The Schermerhorn Tomb will be open to the public for the very first time.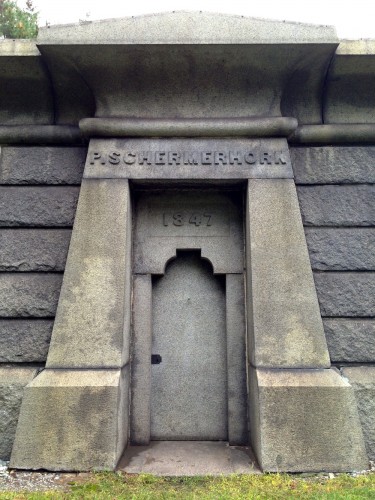 It was built on Schermerhorn land–that family sold its grazing land to Green-Wood in the earliest years of the cemetery, and the Schermerhorns, just a few years later, built their tombs on what had been their ancestral land. Abraham, Peter's brother, "resides" just across the road. It is an amazing place to visit.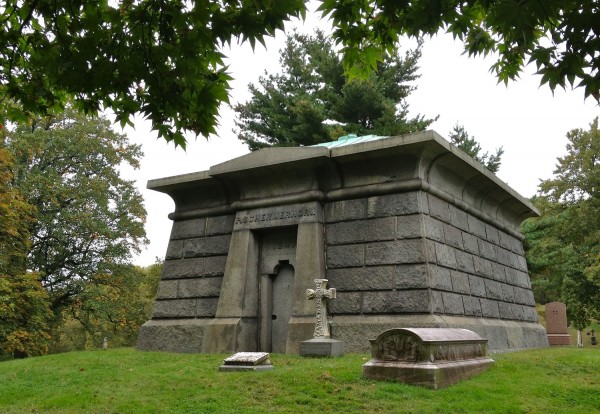 Inside, the ceiling is a brick vault. There are two chambers for burials. Marble stones to either side of the entrance bear the names of those interred. Those marble stones are held in slots–when a person died, the stones were lifted out of the slots, using carved handholds, were taken to a monument dealer to be inscribed, and the casket was then slid into place. Then the inscribed marble was placed back in its slots to identify the deceased.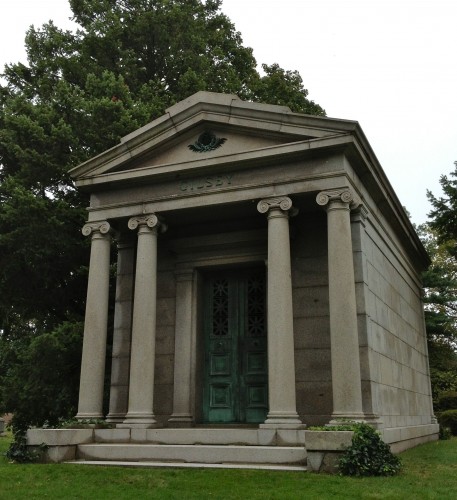 It should be quite a weekend. And it's for a good cause–a fundraiser for The Green-Wood Historic Fund–to pay for the restoration of monuments as well as our full schedule of events and tours. Please join us–tickets are available here for Saturday and here for Sunday.