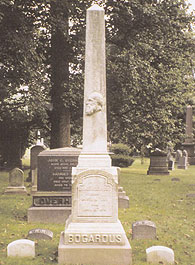 Designer: Unknown
Location: Cypress Avenue, between
Vine Avenue and Grape Avenue (along Elder Path)
Saved in Time Estimate: $12,500
For cleaning and repointing of marble monument; poulticing and stain removal; consolidation and conservation treatments (details below).
James Bogardus was the pioneering American inventor who developed the design and manufacture of modular cast iron building systems. Creating a name for himself as an innovative maker of clocks and the eccentric mill for grinding grain, paints, ores, coffee, etc., Bogardus evolved pre-fabricated architectural frames and facades which offered fire resistance, ease of assembly and great variety of style. Introduced in New York City in the late 1840's, his first buildings were an outstanding success, leading other notable local iron founders like Daniel Badger (also buried in Green-Wood), James Beebe & Co., and William Cornell, to begin making cast iron structures as well. Such buildings were erected all over the country, with a great many being built in New York. Many still exist, and Manhattan's SOHO-Cast-Iron Historic District features the greatest concentration to be seen anywhere. Four of Bogardus' own buildings survive in New York: 254 Canal Street, 75 Murray Street, 63 Nassau Street and 85 Leonard Street.
In the world of architecture and building technology, James Bogardus is a significant person, whose contribution has only recently been examined and given proper recognition. The nationally known preservationist Margot Gayle has spearheaded efforts to resurrect the legacy of Bogardus. Her book "Cast-Iron Architecture in America – The Significance of James Bogardus" was published in 1998. She is also responsible for the triangle park at the intersection of West Broadway and Hudson Street at Chambers Street in Lower Manhattan being designated "Bogardus Square."
The monument marking the grave of Bogardus and his wife Margaret (an accomplished and prolific painter of miniature portraits in her own right) consists of a white marble obelisk on inscribed pedestal supported by a pink granite plinth that stands approximately twelve feet in height. A raised relief portrait of Bogardus as a mature, bearded man is carved on the front face of the obelisk. Similarly, large, raised block lettering on the base presents the family name BOGARDUS, while carved plaques with raised lettering are on the front and proper left faces of the die, bearing inscriptions for James and Margaret, respectively. There are two white marble headstones flanking the monument bearing raised initials for J.B. and M.B.
The monument is in whole condition and appears to be structurally sound. The four marble elements are significantly weathered, which has exposed the grain of the stone and resulted in a rough surface texture. The raised bas relief portrait, lettering and carved moldings are beginning to crumble, but remain full and legible. The same is true of the headstones. The granite plinth is in very good condition.
All marble elements of the memorial require gentle cleaning and perhaps liquid polticing to remove soiling, bird guano and biological staining of several kinds. The granite shall also be properly cleaned. Jointing between stones shall be repointed with appropriate mortar mix for aged marble. Lead "buttons" visible in jointing at several locations may be carefully trimmed if feasible, or otherwise left as they are.
Marble shall be tested and evaluated with regard to use of a suitable consolidant and/or permeable water-repellant treatment that are proven not to discolor the stone. Treatment will offer a measure of stability and longevity to the details and surfaces of the stone.