Honoring Our Veterans: A Memorial Day Tribute
May 26, 2021
,
6:00pm
–
7:00pm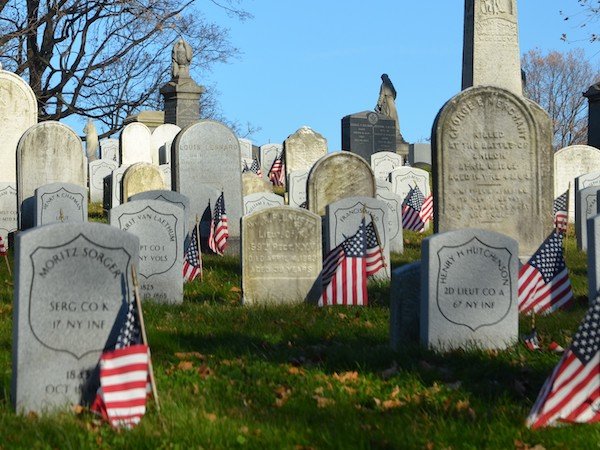 While Memorial Day is often overshadowed by shopping sprees and TV marathons, its true meaning is not lost in a cemetery—where we honor the people who sacrificed so much to serve this country. In commemoration of the Green-Wood's thousands of permanent residents who have served in the Armed Forces, historian Jeff Richman will share a few of the most moving stories of veterans interred here.
We'll see the graves of the Prentiss brothers, Clifton K. Prentiss and William S. Prentiss, who fought on opposite sides during the Civil War, later to be buried side by side. We'll learn about the lesser-known Mexican War lot, where recently-installed bronze plaques mark the graves of men whose bodies were retrieved from far-off battlefields, but whose graves remained unmarked for more than a century. And we will see the final resting place of a man who fought in the Battle of Brooklyn, the largest battle of the American Revolution, which took place across the land that is now a part of The Green-Wood Cemetery.
$9 / $4 for members. A Zoom link will be in your confirmation email upon registration.
This conversation is part of our series of virtual programs about the history of Green-Wood and its permanent residents, Zooming in on History.
Not a Member?
Click here for all of our membership levels and information.
Already a Member?
Click the gray tickets button to activate the Eventbrite pop-up, then click Enter promo code. Type in your ID number to access your discounted and/or free tickets.
Questions?
Don't know your Member ID number? Not sure which ticket or membership type to order? Call 718-210-3080 or email contactus@green-wood.com with any questions.