It is a fact of life–there is always (or almost always) someone out there who knows more than you do about something.
It is pretty well known that Louis Comfort Tiffany designed stained glass windows for use in cemetery mausolea. There are several of those at Green-Wood. And, just a year ago, I was pretty impressed with my knowledge of the much less well known stone monuments at Green-Wood by Tiffany Studios. Through the work of sharp-eyed Green-Wood Historic Fund Volunteers, processing the cemetery's Burial Orders, I had learned about two stone memorials at the cemetery by Tiffany Studios:  one memorializing Theodore Jackson–a baseball pioneer–and the other for Charles Boyd Curtis, a Civil War veteran. However, as it turns out, I was unaware of a few markers by Tiffany at Green-Wood–about 58 or so!
About a year ago, I was seated next to Susan Olsen, Woodlawn Cemetery's director of historical services, at a New York Landmarks Preservation awards ceremony. Susan and I go way back–decades, and she has always generously shared her cemetery knowledge. As Susan and I talked a bit about our work, she mentioned that she had come across a master's thesis about Louis Comfort Tiffany and the work that his business, Tiffany Studios, did in designing and crafting stone cemetery memorials. That sounded good to me, and Susan sent me a copy of that thesis. Eureka!
The thesis, "Silent Sentinels:  Funerary Monuments Designed and Executed by Louis Comfort Tiffany and Tiffany Studios," written in 1995 by Eileen Wilson Coffman for her master's degree at Southern Methodist University, is a tremendous resource about an otherwise ignored subject. Meticulously researched, it details 763 monuments by Tiffany Studios in cemeteries across the United States–scattered across 32 states, with most of them–605–in the northeast. As Coffman notes, Tiffany had established a niche in designing and producing stained glass for churches and mausolea. It was then a short jump to creating high-quality stone memorials for placement in cemeteries. Coffman's work has opened the door to much new information about Green-Wood and the monuments that dot its grounds. As Coffman notes of these stone markers, "Almost without exception and regardless of the type or style, the common denominators are present, including the explicit attention to texture, tone, proportion, and above all, a superb manipulation of line."
Once I received this thesis, Jim Lambert, volunteer extraordinaire, took over, going through it page by page, looking for any mention of Green-Wood. And he diligently came up with material pertaining to 60 Green-Wood monuments!
Louis Comfort Tiffany (1848-1933) is interred at Green-Wood. The son of Charles Tiffany, who founded Tiffany, Young and Ellis in 1837 (which would become Tiffany & Co.), and Harriet (his mother who was the sister of Tiffany's partner, Young), he grew up regularly exposed to art. He painted, worked in interior decoration, as a art glass maker, and with enamels, iron, precious stones, wood, and ceramics, but achieved his greatest fame for his stained glass lamps and windows.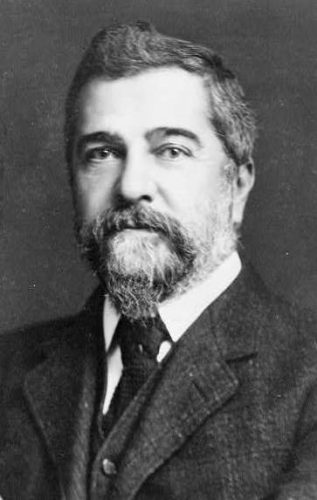 But there is another aspect of Louis (pronounced "Louie,"–he is named after Louis XIV, the French sun king) Comfort Tiffany's art that has long been little-known:  his work–and the work of his employees who made up his workshop, over which he exercised constant and personal supervision–designing and creating grave markers. As per Coffman, the first Tiffany stone memorial was created in 1890 (under the company name of Tiffany Glass Company, the name used 1886-1892; the last in 1935, under the aegis of Tiffany Studios, two years after Louis's death. Coffman notes that his cemetery monument business started slowly:  only 20 funerary monuments were produced in the 1890s. In 1896, Tiffany Glass and Decorating Company–the name of Louis Comfort Tiffany's business from 1892 to 1902–published "Memorial Tablets," advertising that aspect of its business. Tiffany was soon building mausolea for clients, and in 1912 purchased a granite quarry in Cohasset, Massachusetts, to obtain quality but inexpensive stone for his business. Not surprisingly, the stones quarried there were referred to as "Tiffany Granite." In 1913, another brochure, "Memorials in Glass and Stone," was published. As Coffman has written, " . . . Tiffany hurled his firm into the monument marker business complete with showrooms, samples, and even a quarry, intent upon capturing the somewhat untapped market for cemetery monuments for the rising middle and upper classes." Unfortunately, because few Tiffany business records have survived, there is an incomplete record of Tiffany stone work. But Coffman's thesis fills much of that void.
Once Jim Lambert, the volunteer working from Coffman's thesis, had collected the specifics of the Tiffany markers identified as being at Green-Wood, he searched the cemetery records, noting a likely lot or two that seemed to match–usually based on the customer's name as it appeared in Tiffany's records. In several cases, being more familiar with Green-Wood's records and its grounds than Coffman apparently was (much to her credit, she diligently traveled around the country, visiting a host of cemeteries, for her research), we were able to find several Tiffany memorials that Coffman had been unable to find. In other cases, we were able to verify, often based on letters from Tiffany Studios, Tiffany's Quincy quarry, or sketches that Tiffany submitted to Green-Wood's superintendent, that monuments that Coffman had concluded were not by Tiffany (based on stone and design particulars) were in fact by his company.
Some of the memorials at Green-Wood are spectacular and likely unique. So it is with Tiffany's stone work for Theodore Jackson, a massive monolith in section H, lot 21121, visible from Battle Avenue on the south slope of Battle Hill. Jackson was a baseball pioneer; he served as the secretary of the committee on rules of the historic baseball convention of 1857–which established the parameters of baseball, including that a game would last 9 innings. Jackson, a prosperous lawyer, contracted with Tiffany Studios, just months before his death, for the erection of this fine and massive monument at the price of $8,300, the equivalent of $215,000 in 2019 money.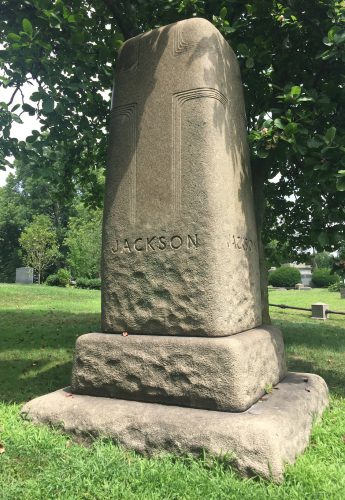 Tiffany was partial to lilies, both as a motif for his stained glass windows and on his gravestones.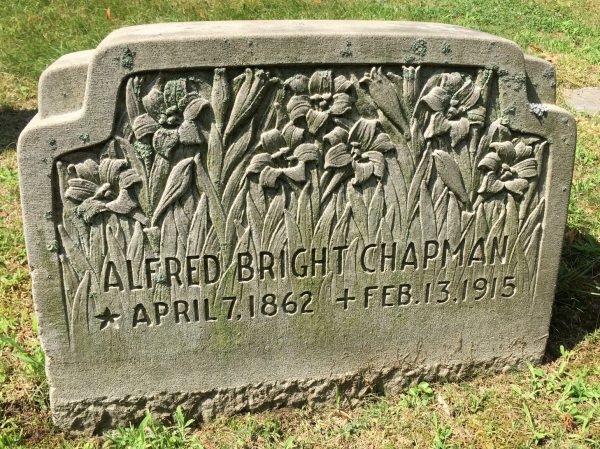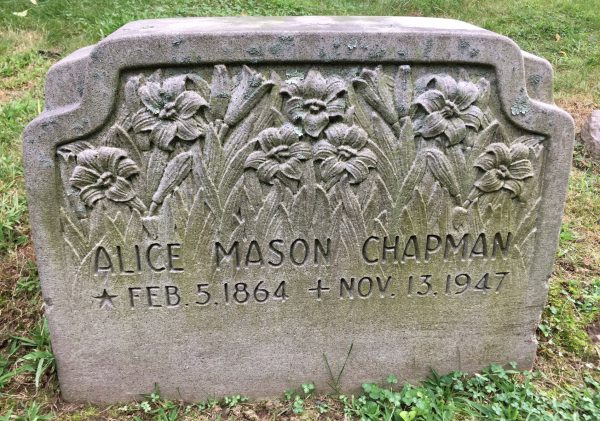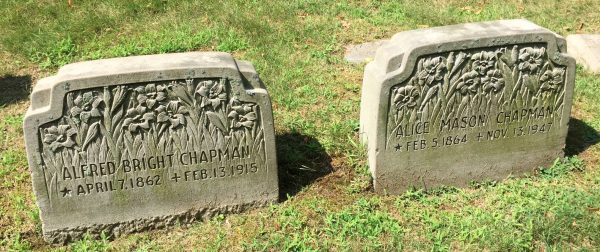 In the same lot is this Tiffany gem: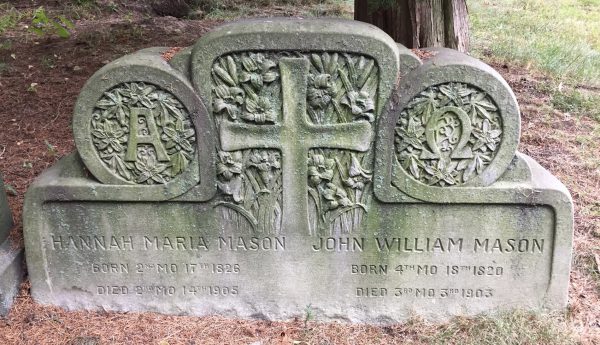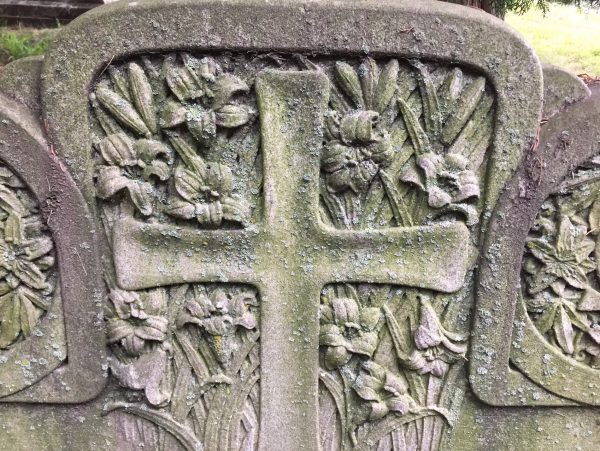 Tiffany-designed crosses dot Green-Wood's grounds: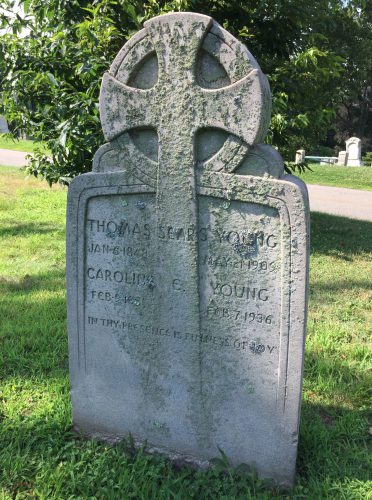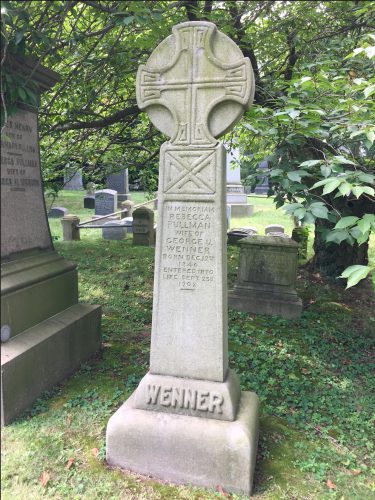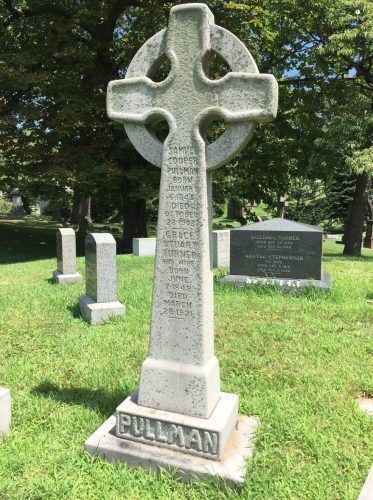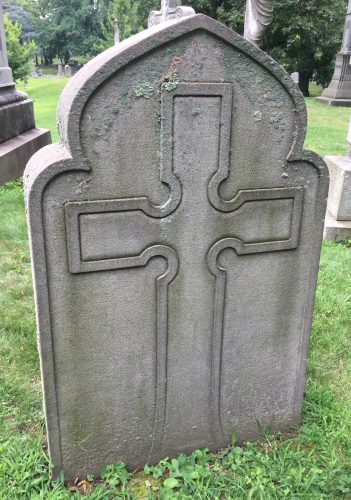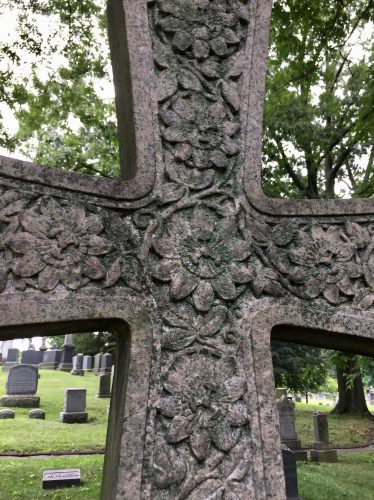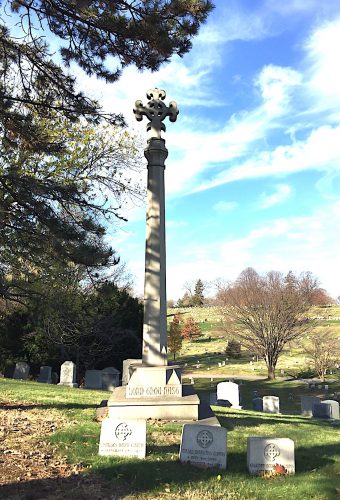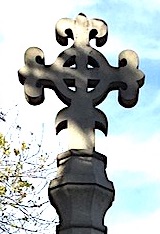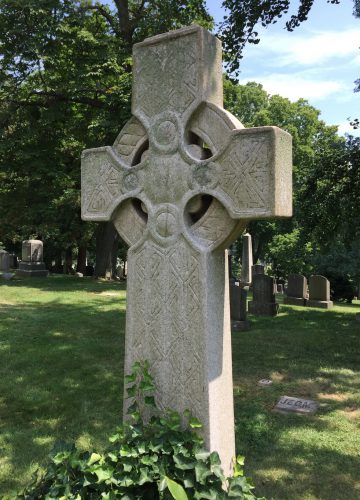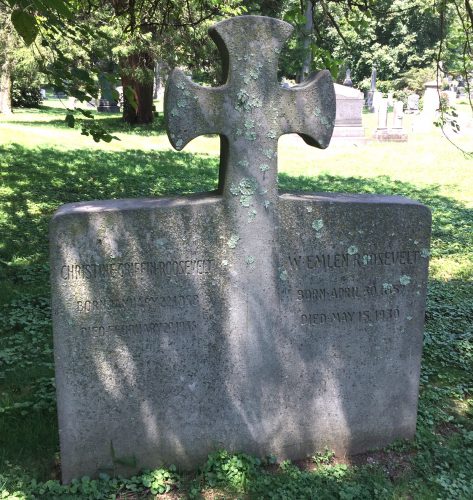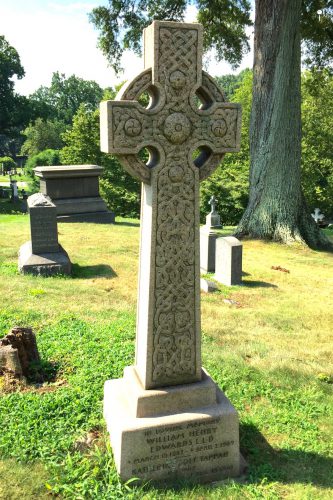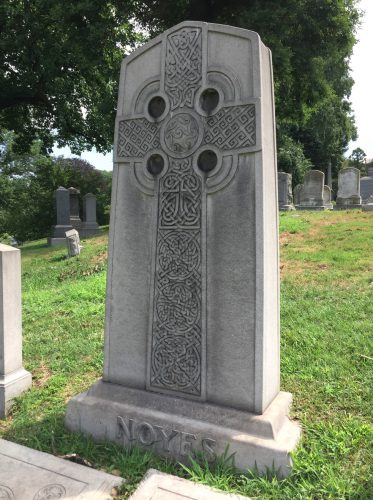 It is possible to confirm the identity of Tiffany-designed and executed gravestones based on the style of the lettering carved into them. This "Tiffany Studios font" appears on many of its cemetery markers–not invariably, but often enough to help in the identification of its work. Note the similarity of the lettering in the markers below that have been verified, by documentation in Green-Wood's archives, as the work of Tiffany Studios.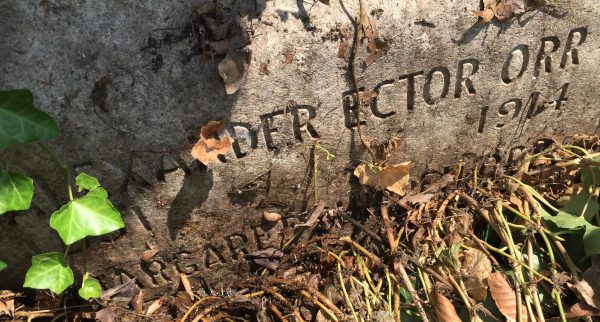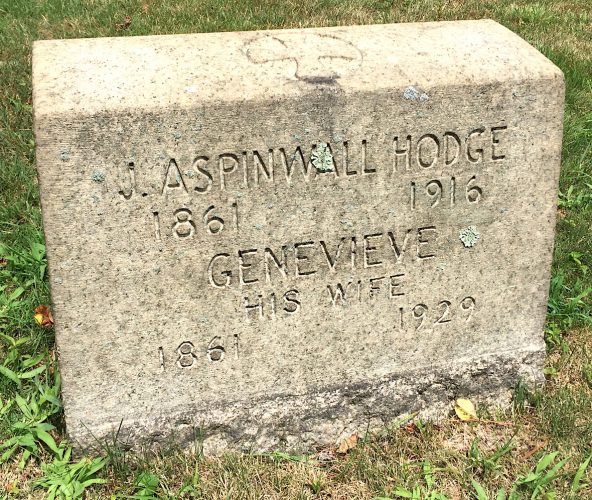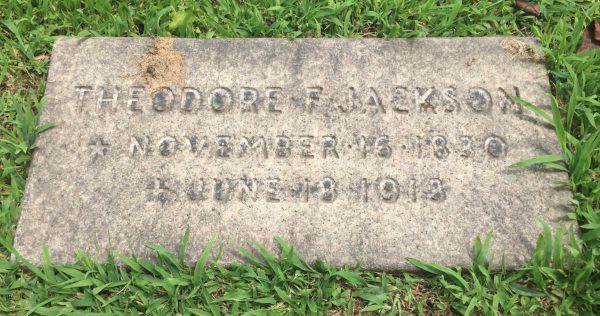 In addition to working in stone at cemeteries, Tiffany occasionally featured a favrile glass mosaic in his cemetery monuments. This the only Tiffany mosaic at Green-Wood: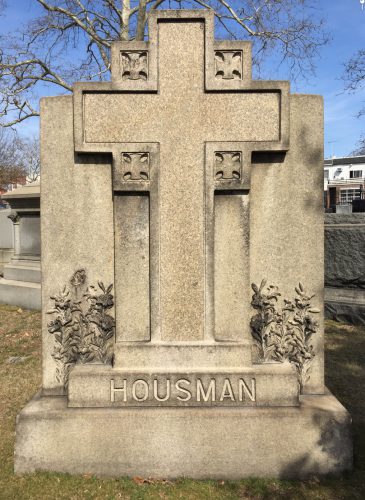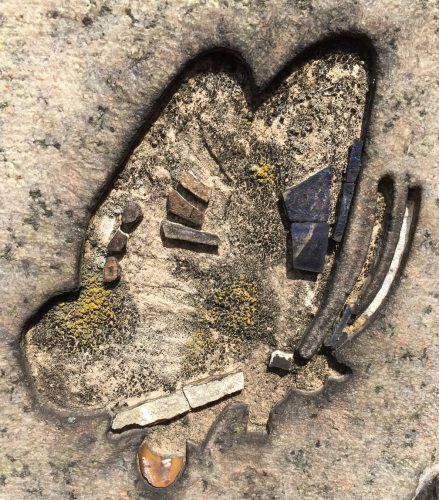 Certainly one of the most wonderful Tiffany Studios designs in any cemetery are the stairs–and the accompanying monument–in the Marshall Lot–section 118, lot 17428, just off Atlantic Avenue and down Lotus Path to the northwest. These spectacular stairs appear to be unique: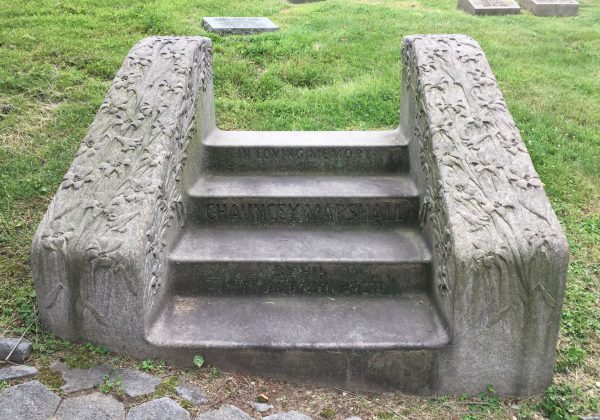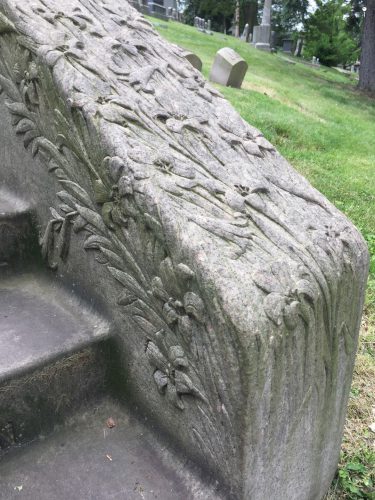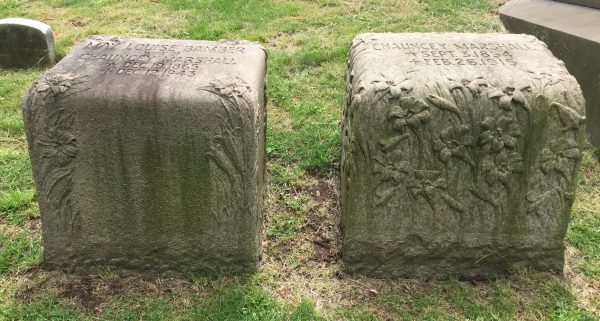 Tiffany Studios also decorated large stone slabs as monuments–either as table or ledger stones. Below is the Beard Memorial–a table monument with the slab lifted off the ground by eight stone supports. The cross, cut down into the stone, is alone on the top; the inscriptions run along the sides. Unfortunately, Tiffany designers seem to have failed to consider the need to make sure that water from rain would run off the stone; even granite, a very tough stone, is not immune to damage from water sitting on it, as you see here: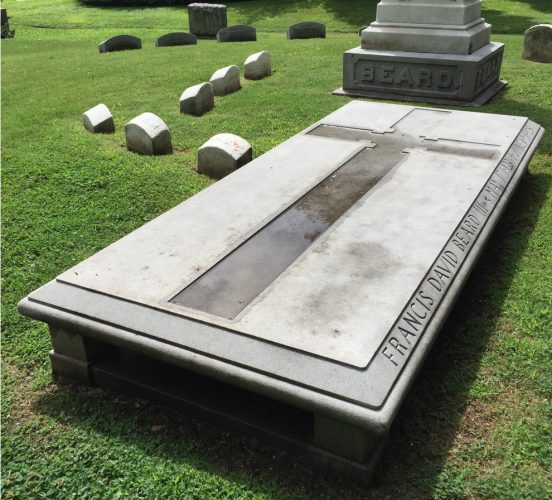 Tiffany also crafted ledger stones–large flat stones laid even with the surface of the ground, supported by brick or concrete foundations: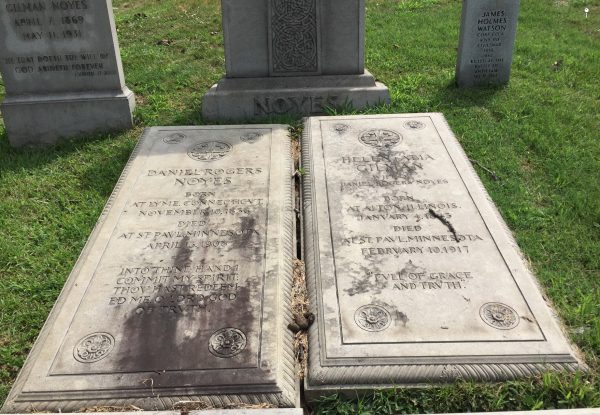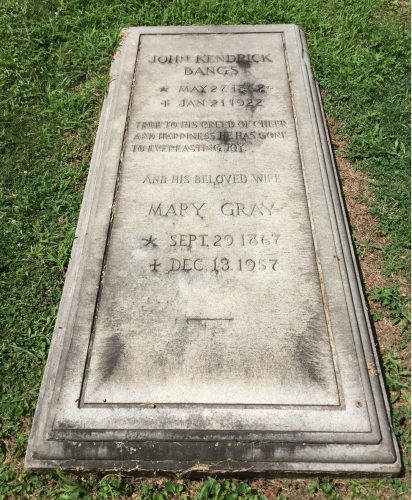 Ever since I first saw Louis Comfort Tiffany's own gravestone at Green-Wood several decades ago, as well as the matching gravestones in that same lot, I suspected that he had designed those gravestones himself. First of all, his parents' gravestone and that of his first and second wives, as well as two other relatives, were placed at Green-Wood while he was still alive. Would such an artist–who created a business designing grave markers–have allowed someone else to design these memorials for his loved ones? I doubted it. Further, their polished black speckled granite is rare (I have only seen it at one other grave–in Graceland Cemetery in Chicago) and fine–characteristics one would expect in the designs of this extraordinary artist. Moreover, the design is simple and elegant (four-sided, with a tapered roof-like top), the simplicity and elegance that one would expect of Louis Comfort Tiffany. Further, Green-Wood's archives contain a note from Louis C. Tiffany, dated 1911, on his personal stationery ("Louis C. Tiffany, Fifth Avenue, New York"), showing his interest and involvement in the gravestones in this lot–he requests that Grant Pitbladdo, a monument maker active at Green-Wood, whose place of business was just across the street from Green-Wood's main entrance at 25th Street and 5th Avenue, be allowed to remove a stone already in the Tiffany family lot so that an inscription for Hilda C. Tiffany could be carved.
Indeed, documentation in Green-Wood's archives proves that these gravestones, with one exception, were designed and executed by Tiffany Studios: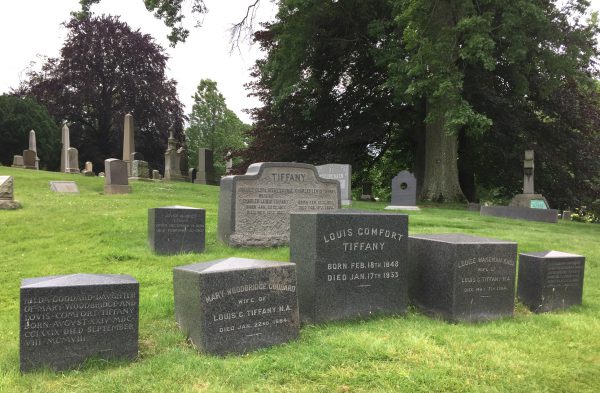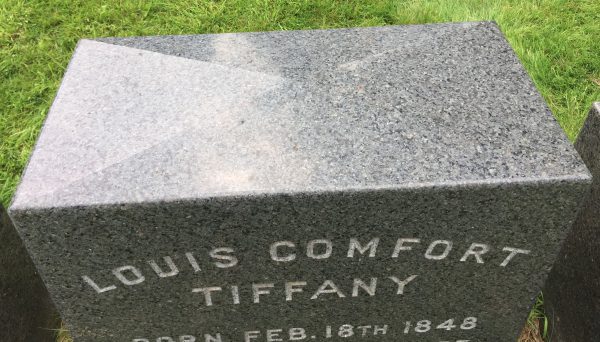 Early in his career, Louis Comfort Tiffany devoted his skills as an artist to interior decoration–making homes more beautiful. Later in life, he devoted some of his skills–and those of his employees at Tiffany Studios–to making exteriors–and as discussed above, specifically cemeteries–better-decorated. We owe a big "thank you" to Eileen Wilson Coffman, whose thesis on Tiffany grave markers helps us better understand Tiffany's stone art that so enhances Green-Wood's grounds.