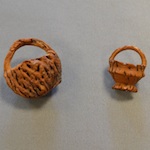 Captain
Samuel Harris Sims
(1828-1864,
click here for a picture
) is but one of many Civil War military officers to make Green-Wood his final resting place. When Sims departed for war, he left behind his fiancé, Carrie Dayton – but he did not forget her while on the field. Between battles, Sims hand carved peach pits into the two small baskets pictured above. He sent these carvings home to her, along with letters and pressed flowers. These items, plus correspondence, official documents and mementos, are part of a diverse collection of Samuel Harris Sims materials belonging to Green-Wood's Collection. Sadly, Sims never made it home to his fiancé, having suffered fatal injury at the Battle of the Crater, Petersburg, VA in 1864.
Click the image to expand.