Over the years, I've taken part in quite a few videos about Green-Wood. Some have been great, some not so much.
But I am very much looking forward to two that will have their premieres in the next week.
One is a local production for NYCMedia, a part of the mayor's office. Dave Evans is the host of the Emmy-winning show 9.99. The premise is simple: with so much to do in NYC, why not look for things to do that will cost you under $10? Hence, 9.99.
Here's embedded video of the show featuring Green-Wood (added 10/17/11):
And here's the description of the
9.99
show which aired with the segment on Green-Wood:
Historic Downtown Brooklyn (Air date: Sunday, October 16, 9pm)
Brooklyn has plenty of history to offer, and in this episode Dave introduces you to some of Park Slope and Downtown Brooklyn's most intriguing spots! Whether you're looking to investigate some classic subway cars, a Revolutionary War landmark, centuries' old headstones or some authentic spinach pies, Dave will show you how to do it for less than ten bucks.
It aired on channel 25 and other channels. The channel guide is here. Or you can catch it on video-on-demand here. Dave was great to work with–and, as someone who was raised in South Brooklyn, has a great feel for the area.
Here's my earlier report on the shoot for "Off Limits." And here's Don Wildman, the host, up in our Arches.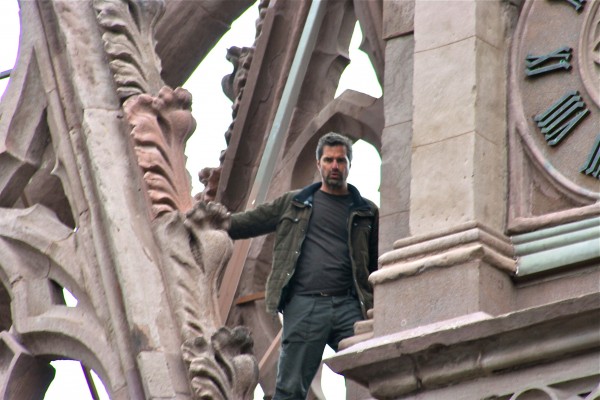 This is a clip from the show, with yours truly. "Off Limits" will be on the Travel Channel this coming Tuesday, October 18, starting at 10:00 p.m.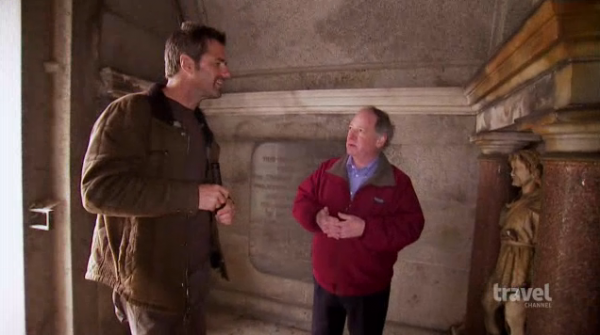 As I watched the clip, I was impressed by Don's skill at distilling his thoughts into a few well-chosen words. He really is a pro!
I hope you enjoy the shows!