Last night, I had the honor of attending the preview of the blockbuster exhibition, "Duncan Phyfe: Master Cabinetmaker in New York," at The Metropolitan Museum. Years in the making, it opens today and will run through May 6. Don't miss it!
As you may recall, I have been covering this story for months now. Almost a year ago, I blogged about it here. The story: Duncan Phyfe (1770-1854), Scottish immigrant turned master cabinetmaker, who has been interred at Green-Wood since soon after his death, was the hottest of hot furniture makers during the first half of the 19th century. His nickname, "United States Rage," reflects just how popular he, and the furniture he produced, were in his day.
This exhibition, 157 years after Phyfe's death, is the first retrospective of his work in 90 years. And it is likely the most extensive ever mounted, both in terms of objects displayed and discoveries made. Peter Kenny, curator of American Decorative Arts and administrator of the American Wing at The Metropolitan Museum, has been researching Phyfe for years. He and Michael K. Brown, the co-curators, have managed to gather for display nearly 100 works, including never-before-seen furniture that descended in the Phyfe family. Because few of Phyfe's pieces are signed, the exhibition breaks ground by matching bills of sale and histories of ownership to identify some of Phyfe's unsigned pieces.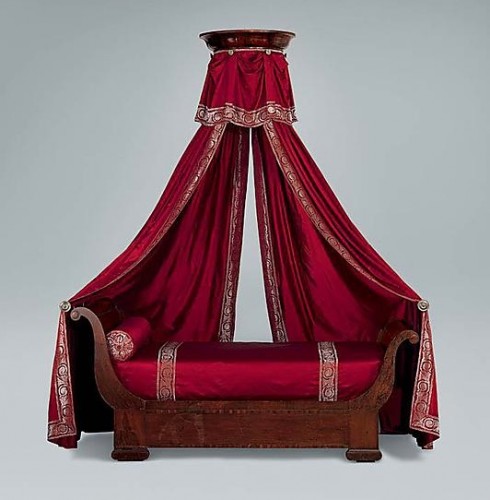 The exhibition features labeled Phyfe pieces, pieces attributed to Phyfe based on their design features,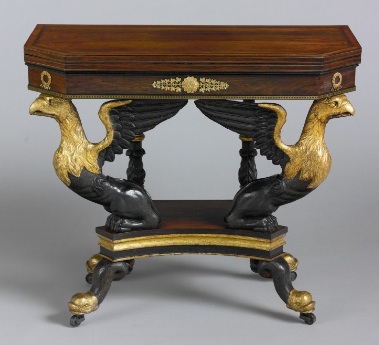 a video demonstrating carving, veneering, turning, and gilding techniques, a pier table taken apart to show construction practices, and Phyfe's own tool chest. Also included is furniture by contemporary cabinetmakers of Phyfe's, including work by Joseph Meeks and Sons (who also are interred at Green-Wood), as well as a fascinating broadside advertisement by Meeks.
And, perhaps best of all, the text of the exhibition concludes by stating the Phyfe is interred at Brooklyn's Green-Wood Cemetery. The catalogue of the exhibition also includes a photograph of the Phyfe family's Green-Wood mausoleum.
Late in 2010, Peter Kenny visited Green-Wood for a trip into Phyfe's mausoleum and gave a slide talk in our Historic Chapel about his groundbreaking research. Now, we are hoping to make arrangements to take a group, on our Historic Fund trolley, over to The Met for a special tour of the exhibition, led by Peter. Stay tuned.