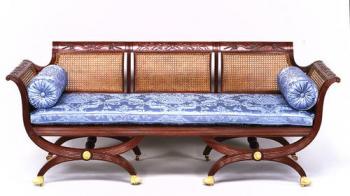 Few names are as big in American furniture making as Duncan Phyfe (1768-1854). And, of course, Phyfe is one of Green-Wood Cemetery's permanent residents. For generations, dealers and collectors have tried to attribute American furniture made in the first half of the 19th century to Phyfe. His name was magic–it meant the best. Above is a photograph of a Phyfe sofa from The Metropolitan Museum's collections.
A few weeks ago I saw a newspaper announcement: Peter Kenny, Curator of American Decorative Arts and Administrator of the American Wing at The Metropolitan Museum, was going to be giving a talk at the Bruce Museum in Greenwich, Connecticut, about his upcoming exhibition on Duncan Phyfe. Checking the Metropolitan's website, here was the description:
Duncan Phyfe, America's Legendary CabinetmakerReferred to during his lifetime as the "United States Rage," Duncan Phyfe (1768–1854) remains to this day America's most widely recognized cabinetmaker. This will be the first major retrospective on Phyfe since 1922, when the Metropolitan mounted a monographic show on the cabinetmaker and his work. The exhibition will cover the full chronological sweep of Phyfe's distinguished career, including his earliest and best-known furniture based on the published designs of Thomas Sheraton as well as work from the middle and later stages of his career, when he adopted the richer "archaeological" antique style of the 1820s and a refined plain Grecian style based on French Restauration prototypes.
Accompanied by a catalogue.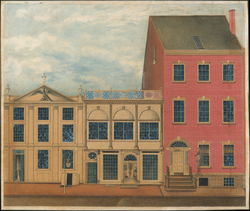 Here's "The Shop and Warehouse of Duncan Phyfe, 168–172 Fulton Street, New York City," circa 1816, in The Metropolitan Museum's Collections.
So I headed off to Greenwich on the appointed day to hear Peter's talk. As soon as I arrived, I knew this was for me. Peter had set up his slide show, and his first slide was already up on the screen. I recognized it immediately: it was the Phyfe Mausoleum at Green-Wood Cemetery. Peter gave a wonderful presentation, sharing his enthusiasm for his subject and his discoveries in preparation for the exhibition. And, he mentioned that some day he would love to be able to get into that Phyfe Mausoleum. Well, that was all I needed. After he finished his presentation, I approached him and introduced myself. I asked him if he would like to get inside it. He said he would.
So, just a few weeks later, there Peter was, standing at Duncan Phyfe's final resting place. I must say it was a thrill to have this scholar, who had studied Duncan Phyfe so carefully, point out Duncan's brother, sons, etc., in that mausoleum.
I've done some research in the cemetery records and I will send what I have found to Peter. Hopefully there will be some new information there for him. The exhibition open as The Met in January, 2012. Don't miss it!