Marge Raymond has been birding at Green-Wood for twenty-five years. For the last few years, Marge has been leading trolley tours of Green-Wood for our Historic Fund.
Last Wednesday, on her regularly-scheduled weekly tour, Marge walked her group out into Cedar Dell to show them the very early Dutch Reformed brownstone gravestones there. As the group returned to the trolley, Marge spotted a large bird in the distance, and pointed and said, "Look in the distance way up on the top of the tree,  it must be one of our resident red tail hawks." But one of the tourists was dubious: "That looks like a mighty big bird." Marge agreed and retrieved her binoculars. As soon as she put them up to her eyes she realized her mistake: that was no hawk, it was an adult bald eagle! Marge got her camera, ran across Cedar Dell in the rain, and got these photographs before her camera battery died.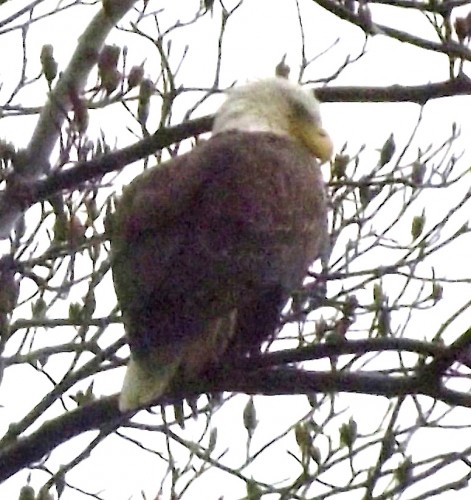 Marge was tremendously excited by her sighting, which might be a first for Green-Wood: a bald eagle perched inside its grounds: "We have had fly overs but never an eagle actually present inside. I happened to be in the right place at the right time with binoculars and a camera. When the eagle flew away its wing span was tremendous. It made my day and it broke a record for Green-Wood Cemetery. It actually broke a state record as eagles have not been spotted in Brooklyn before."
Here's a photograph of a bald eagle, to give you a bit better detail of these magnificent birds–the reason they have long been our national bird.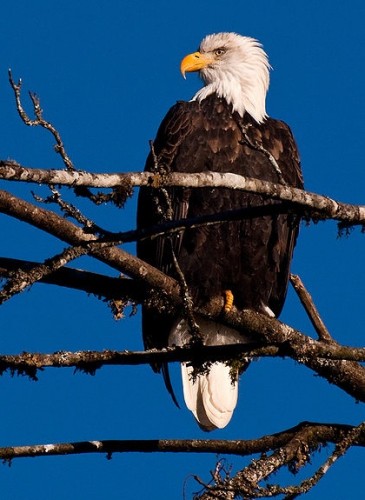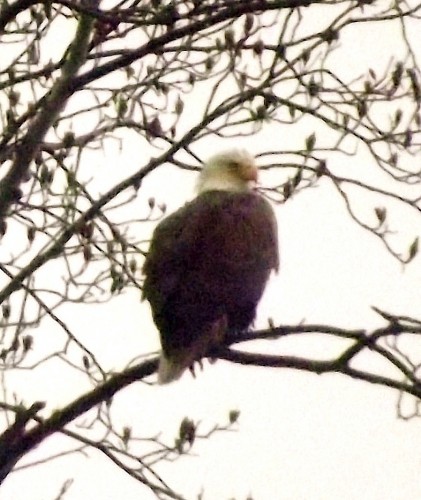 However, it now appears that in October another birder reported spotting a bald eagle fishing near Bush Terminal along New York Harbor's edge just west of Green-Wood, and on Thanksgiving, a couple reported seeing an eagle at Green-Wood. So, it may be that this bald eagle (eagles?) is looking for a place in Brooklyn that feels like home: 500 or so acres, mature trees, plenty of fresh fish nearby.
Wouldn't it be great if this eagle took up residence in Green-Wood, built a nest, and went fishing in the harbor! We can always use one more feathered resident . . .