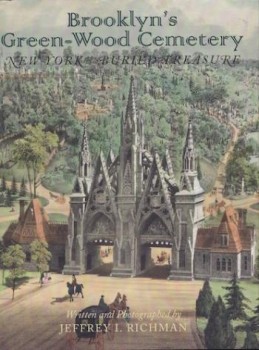 One of the most rewarding aspects of our Civil War Project has been the information we have gotten from descendants of Civil War veterans who are interred at Green-Wood. Sometimes they contact us with bare bones information: my great grandfathers name is —- and he served in the Civil War. Can you help me find him? Other times pension records and photographs follow. And still other times, a wonderful story emerges. So, I recently was contacted by a a great great granddaughter of James Rodgers (1803-1877). She gave us information about his Civil War service (at the age of 60 he served as quartermaster of the 15th New York Heavy Artillery) but also his remarkable career as a clockmaker.
Born in Aberdeen, Scotland, Rodgers apprenticed to a clock-maker and worked in his trade. In 1822, he immigrated to New York City and took up his trade, first on Chatham Street and then at 410 Broadway. He made clocks, high-grade watches, and similar items; in 1840, he received a silver medal from the American Institute Fair  for designing a device that measured revolutions of a steam engine. More than 50 large public clocks and ship chronometers of his design were displayed in New York City in his heyday, although none have survived.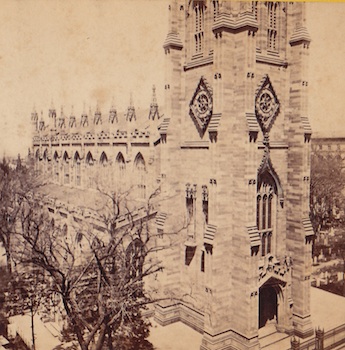 Among his famous designs were the massive clock at Trinity Church in Manhattan (1846), for which he charged $4333, the largest dial-clock at that time and gold medal winner at the 1846 American Institute Fair. His clock at Trinity Church, pictured here in a photograph circa 1865, was the site for marking New Year's in New York City as late as the early 1900s. He also designed the clock at the entrance gate to Green-Wood Cemetery (1861) (shown above, from a print by John Bachmann, dated 1867. He also designed the clock for New York City's City Hall in 1859 and the clock atop Grand Central Depot, designed by John Snook (also interred at Green-Wood), shown here, in 1871.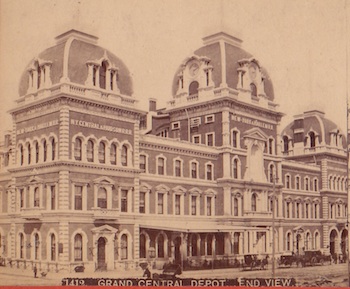 Interestingly, each of these three clocks, Green-Wood, Trinity, and Grand Central, seems to have had four faces. James's son, Anthony, also served in the Civil War and worked with his father in his clock and watch business during the 1860s.
Thanks to Susan Rudin, editor extraordinaire of our Civil War biographical dictionary, for her great help with James Rodger's biography.