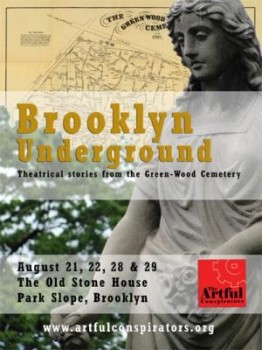 Since soon after its founding in 1838, Green-Wood Cemetery has been a popular place. It has been painted and photographed. It has been filmed and videotaped. It has appeared in movies and on television shows. Now, it is about to get its very own theatrical production, courtesy of the Artful Conspirators:  "Brooklyn Underground: Theatrical Stories From the Green-Wood Cemetery," described as "an original play by The Artful Conspirators from interviews, research and imagination." The production is directed by David A. Miller.
Katie, who is a regular visitor to Green-Wood, and regularly blogs about its trees, went to a preview of this play recently and was very impressed. She concluded her review with this: "There couldn't be a more fitting way to convey what Green-Wood is. Although the show might morph into another animal by the end of August, if the Artful Conspirators bring the same talent, heart, and humor that they brought to the preview, it's going to be a pure delight."
If you'd like to read her full review, it is here. And, if you'd like information about the performances, you can find that here. Four performances will be offered the last two weekends in August. Enjoy the show!