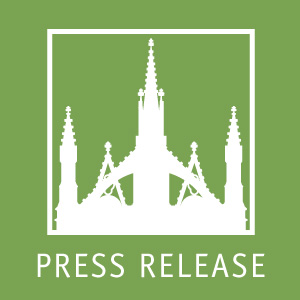 CONTACT:             Josh Salter/Colleen Roche
Linden Alschuler & Kaplan Public Relations
914-629-0444; jsalter@lakpr.com
THOUSANDS OF NEW YORKERS CELEBRATE MEMORIAL DAY AT THE GREEN-WOOD HISTORIC FUND ANNUAL CONCERT AND TOUR
Concert Features the 50-Piece Brass & Percussion ISO Symphonic Band and the
GRAMMY ® Award-Winning Brooklyn Youth Chorus
(Brooklyn, NY, May 31, 2010) – The Green-Wood Historic Fund celebrated Memorial Day with a rousing concert performed by the 50-piece brass and percussion InterSchool Orchestras of New York and the GRAMMY award-winning Brooklyn Youth Chorus. The talented young artists delighted visitors with selections by "permanent" Green-Wood residents Leonard Bernstein, Louis Moreau Gottschalk, Fred Ebb and Claudio Grafulla, as well as pieces by Cab Calloway, Paul Simon, Ralph Vaughan, John Williams and Meredith Wilson. Following the concert, Cemetery historian Jeff Richman led a trolley tour to some of Green-Wood's most fascinating sites.
"Green-Wood Cemetery is the permanent home to thousands of war heroes whose services spans the centuries including many who fought in the Civil War and others bestowed with our nation's highest military honor – the Medal of Honor. I can think of no better place to celebrate Memorial Day, American history and the heroes who have given the ultimate sacrifice to protect our freedom than at Green-Wood Cemetery," said President Richard J. Moylan.  "I would like to thank the talented ISO youth orchestra and the Brooklyn Youth Chorus, our dedicated staff and volunteers who together made this event special."
Moylan added, "Green-Wood Cemetery is the final resting place for countless American heroes whose legacies and stories are kept alive by our willingness to remember and honor them. I would like to thank all of friends and supporters who understand that preserving this history for future generations is critically important. For your generosity and support – now and in the future – we are deeply grateful."
The InterSchool Orchestras of New York is a not-for-profit educational youth orchestra program that provides musical opportunities for a group of the finest young musicians assembled in the New York Metro area. It offers five orchestras, a symphonic band, and a chamber music program to players of all levels. With students ranging in age from 6 to 19 years of age, ISO orchestras and band have performed in major concert halls throughout the city, including Avery Fisher Hall, Carnegie Hall, Alice Tully Hall, and Symphony Space.
The award-winning Brooklyn Youth Chorus Academy was founded in 1992 with a mission of helping children of all backgrounds realize their potential as musicians and individuals. As the only voice-based after-school music academy in New York City, BYCA offers unparalleled vocal and musicianship training. Its chorus now stands as one of the country's leading youth choruses and has performed at top venues that include Lincoln Center, Carnegie Hall and the Brooklyn Academy of Music.
# # #
ABOUT THE GREEN-WOOD HISTORIC FUND is a registered 501(c)(3) non-profit membership organization established in 1999 to maintain Green-Wood Cemetery's monuments and buildings of historical, cultural, and architectural significance; to advance public knowledge and appreciation; and to preserve the natural habitat of one of New York City's first green spaces.
Established in 1838, Green-Wood Cemetery is built on 478-acres and boasts extraordinary works of 19th century art and architecture.  Home to hundreds of famous historic figures in New York City history, Historic Green-Wood Cemetery offers many tours of its facilities and also offers concerts and events to the public throughout the year.  It was designated a National Historic Landmark by the US Department of the Interior in 2006.  For more information about Green-Wood Cemetery, visit www.greenwoodcemetery.org.