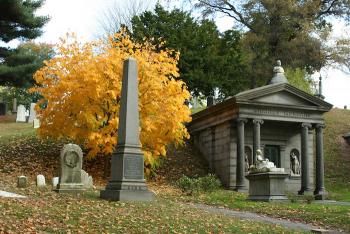 About fifteen years ago, I visited Louisiana with my family. I wanted to see a few special things down there: New Orleans streets, restaurants, and cemeteries, of course. I wanted to eat crayfish. And I wanted to visit Morgan City, Louisiana. Why Morgan City? Well, Morgan City is named for Charles Morgan, a shipping and railroad magnate. Of course, you might have guessed by now: Charles Morgan is interred at Green-Wood Cemetery. Here's his very nice hillside mausoleum. You can read his name above the columns in the photograph above.
Well, I did manage to drag the rest of my family to Morgan City. And, as we entered the town, there was a sign that I will never forget. "Welcome to Morgan City," it said, "Home of the Annual Shrimp and Oil Festival." And, as I looked closer at the sign, I realized they weren't talking cooking oil; rather, "oil" was petroleum. My mind boggled—did they cook the shrimp in petroleum? I was so fascinated by that sign that I photographed it and included the image and the back story in my book, Brooklyn's Green-Wood Cemetery: New York's Buried Treasure.
So, you can imagine how thrilled I was when I recently came across an article in The New York Times about this very subject. With the BP oil leak disaster going on in the Gulf of Mexico, it looks like an assignment editor was wondering if the annual Shrimp and Oil Festival would be proceeding as scheduled this year. Turns out that it is. According to Lee Delaune, festival director, "All systems are go." That's a relief.
After all, it's the 75th anniversary celebration. That's got to be a lot of shrimp–and a lot of oil–over the years. Click here for the full Times article.