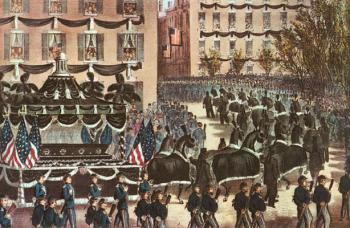 With Lincoln's Birthday rapidly approaching, and with a new purchase I've made, I thought it would be appropriate to return to the story of the funeral procession for the martyred President Abraham Lincoln through New York City.
Lincoln was shot by John Wilkes Booth at Ford's Theatre in Washington D.C. on the evening of Good Friday, April 14, 1865. He died the next morning.
On April 21, New York City's Board of Aldermen hired undertaker Peter Relyea (1815-1896)  to take charge of Lincoln's funeral procession through the streets of that city. Relyea, who is interred at Green-Wood Cemetery in lot 3797, near Valley Water, worked day and night to design and construct the elaborate catafalque that would carry Lincoln's remains.
Relyea, a native of New Paltz, New York, had been the sexton at the Old Willett Street Methodist Episcopal Church. According to his obituary in The New York Times, Relyea, during his long career, "also buried the remains of many other prominent persons." He was paid the then-astounding sum of $9000 for his services for the Lincoln funeral procession.
On April 26, 1865, the body of the martyred President Abraham Lincoln was solemnly paraded through the streets of New York City on its way west to Springfield, Illinois, for final burial. Above, courtesy of the Library of Congress, is the scene as the catafalque moved up Broadway. Here is a wonderful account, on the website of The Lincoln Institute, of that day of mourning in New York City.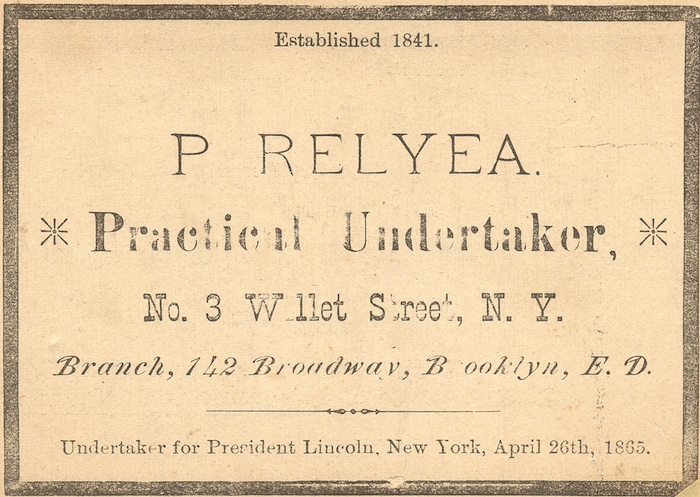 A few years ago I visited St. Mark's on the Bowery. A very interesting place. While I was there I struck up a conversation with a minister whose last name was Relyea. I knew that name from his association with the Lincoln funeral, and asked if he was related to Undertaker Relyea.
Note that Peter Relyea was still working on Willet Street in Manhattan, the same street where he had been the church sexton. Also note that he was advertising himself as "Undertaker for President Lincoln, New York, April 26th, 1865."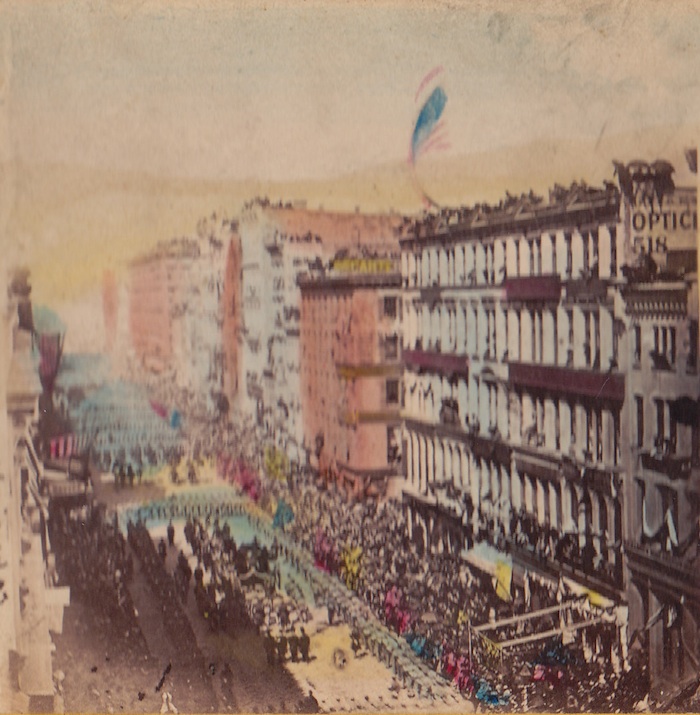 And, I just purchased a hand-colored stereoview of the catafalque, bearing Lincoln's remains, heading up Broadway, near Spring Street, just south of where Tiffany's store used to be. Here's the half-stereo image. You can see the catafalque of Peter Relyea's creation, surrounded by a rectangle of soldiers, with the building signs draped in black, and get a sense of the crowds lining Broadway that day. Look at all of the people up on the roofs, paying their last respects.