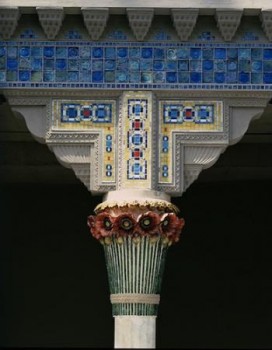 I very much am looking forward to Sunday. Peter Kenny, a decorative arts curator at The Metropolitan Museum, and the administrator of the Met's American Wing, is giving a slide talk at 1:00 p.m. Sunday in our Historic Chapel on furniture maker Duncan Phyfe. Phyfe's name is magic in American furniture making–he is certainly one of the best known, and most widely admired, of Americans who have pursued that calling. And Peter is the man when it comes to Phyfe. He has been working for years on Phyfe, and will be opening a grand exhibition at the Met a year from now, in December 2011. If you would like to reserve a seat for Peter's free Sunday talk, just click here.
But I'm also excited about the trolley tour that will follow. I have been a great fan of the American Wing at the Met for years, and I always enjoy wandering it, looking for the work of artists who are interred at Green-Wood. After Peter's talk, he and I will be leading a trolley tour of the grounds. We will visit Duncan Phyfe's hillside mausoleum and the nearby cast concrete gravestone of architect Grosvenor Atterbury (who pioneered cast concrete construction, and who installed the facade of the Second Branch Bank of the United States as a central design feature of the American Wing).
Martin Thompson, the original architect of that bank, is also interred at Green-Wood. Strangely, as I was preparing for this tour two weeks ago, I came across a photographic portrait of Thompson and purchased it for our Historic Fund's collections. Here he is. And here is a half stereoview of his bank building on Wall Street, in a photograph circa 1865. The bank buidling is at the left in this image; it stood just to the east of what we now call Federal Hall.

Here are some of the artists whose work is on exhibition in the American Wing at the Met, and whose graves we hope to visit (time permitting) at Green-Wood: sculptor Thomas Crawford, painters William Merritt Chase, Eastman Johnson, Asher B. Durand, Samuel Morse (yes, the Samuel Morse of the telegraph and Morse Code fame; before all of that, he was one of America's leading painters; here is his portrait of his daughter, Susan, which hangs in the American Wing) and John F. Kensett, stoneware maker Clarkson Crolius (below is a wonderful piece that sold in 2007 for $60,000 at a Crocker auction), Charles Tiffany (founder of Tiffany and Company) and his son Louis Comfort Tiffany (who designed the grand entrance to his estate, Laurelton Hall, which is now in the American Wing, and is shown here, and a detail of which is at the top of this post). Also, let's not forget John LaFarge, a multi-talented artist who rivaled Tiffany in stain glass design; here's a sample of LaFarge's brilliance.
So, we do have our own American Wing at Green-Wood.
If you would like to join us on this trolley tour, you can reserve a spot and purchase a ticket here.