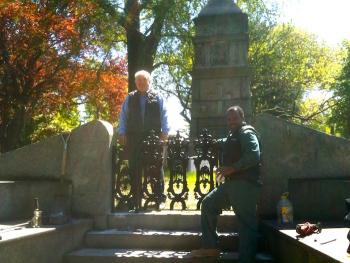 I was cruising around the cemetery yesterday, leading a tour on our trolley, when we came across this scene. There were Domenick Lanzi, our master ironworker, and his assistant, Vincent Joseph, installing my cast iron gate. Now, it really isn't mine, at least not anymore. I bought it about five years ago at an antiques show in Connecticut because I recognized the pattern–it's a weeping willow, with sheep lying beneath it. This was a popular motif for cast iron cemetery fences a century and a half ago: the weeping willow associated with mourning, the resting sheep with a peaceful death. The casting, labelled as that of a Hartford, Connecticut foundry, is very heavy–I had to recruit a kindly neighbor to help me carry it into my house. And there it remained for a few years, directly in front of my fireplace. I liked it there, but one day it occurred to me that, if I ever wanted to use my fireplace again, the gate had to go somewhere else. So I spoke with Art Presson, our superintendent of the grounds, and asked if he was interested. The idea was to put a good cast iron gate back into Green-Wood; there were many of these in the 19th century, but unfortunately the cemetery removed almost all of them, the good and the bad. Well, Art was interested. He bought two more iron sections of this pattern, to fill the entire opening, and the gate was installed yesterday at the corner of Hemlock and Battle Avenues, opposite the Elias Howe bust.
I must admit I got pretty excited yesterday when I saw the gate there, nicely framed as we proceeded up Battle Avenue. I excused myself from the tour, jumped off the trolley, ran and took this photograph, then ran back onto the trolley, and completed the tour.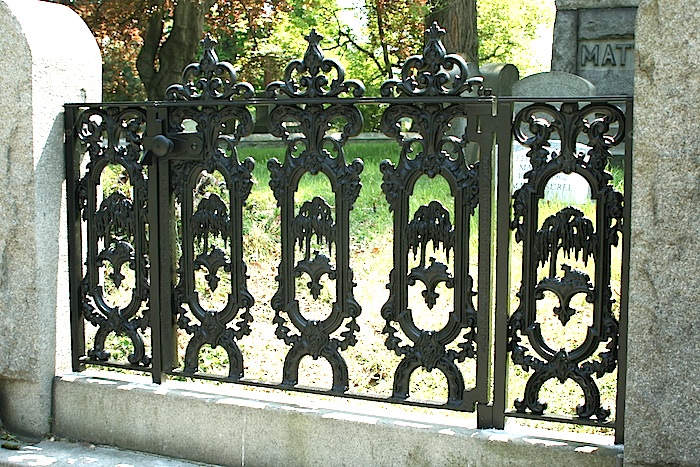 Go visit the gate next time you are at Green-Wood. I think you will like it. Here's a photograph I took of the gate and side panels. If you look very closely, you may notice that some details of the gate are slightly different from the two side panels–but it really is a good match.