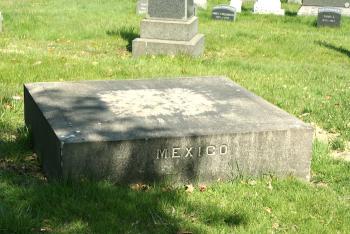 About ten years ago, I purchased a copy of Nehemiah Cleaveland's walking tour of Green-Wood Cemetery, written about 1860. Cleaveland was Green-Wood's first historian; I am its second. Now, I learned a few things from his walking tour about Green-Wood. I also learned some things about writing a walking tour. Never give instructions like this: "Walk up the path to the big tree, then make a left." Unfortunately, Cleaveland did a lot of that, but that big tree, so healthy and strong a century and a half ago, is now long gone, and the instructions are a bit of a mess. Anyway, on that day ten years ago, I was able to follow most of the route, but when I got up onto Highland Avenue, I could not find the monument to the 16 or so New York officers who died in the Mexican War and are buried there.
It was not until several years later that I was asked the magic question by our then-superintendent, Nick Vislocky. Nick wanted to know if I knew anything about the Mexico monument on Highland Avenue. You can imagine my excitement–he had found it! We immediately drove the short distance out there and Nick pointed out his recent find. It was obvious from looking at the top of this piece (pictured above) that this was just the base of the memorial; you can see where another piece of stone, likely an obelisk, had stood in the middle of the base. A cemetery crew was assigned to poke in the ground, in an effort to locate this top piece. Though they did find in the ground the obelisk that now stands on the monument to the right of this one, they did not find the one for the Mexico monument.
I was reminded of this a few days ago when I received an e-mail from Pat Badolato, who, with her husband Vinny, is one of our longest-serving Historic Fund volunteers. Pat writes a wonderful blog, Mille Fiori Favoriti, "A blog about life in New York City." She forwarded to me a New York Times article from 1918, discussing the derivation of some of New York City's street names. The article reported that only two streets in New York City were named to honor Mexican War veterans: Worth Street (named for General William Worth, who was interred at Green-Wood for a few years, then was moved to the west of Madison Square Park; he is the answer to the trivia question, "Who is buried in a New York intersection?") and Baxter Street. Baxter Street is named for Lieutenant Colonel Charles Baxter. Baxter, a native New Yorker, resigned from the New York State legislature (do you think the budget was late that year?) to command the Tompkins Blues, a New York regiment that he led off to Mexico. Mortally wounded at the Battle of Chapultepec, he died on September 18, 1847, in Mexico City. His body was brought back to New York and he lay in state in City Hall. He was given a public funeral, with parade, and President Martin Van Buren's son John delivered the funeral oration. If you'd like to see the entire article on New York City street names, just click here.
A thought just occurred to me, as I write this blog entry. If there's room out there, next to the Mexico monument, perhaps we can get bronze plaques from the Veterans Administration to place around the central monument to honor each of the officers interred there who died for his country. What do you think?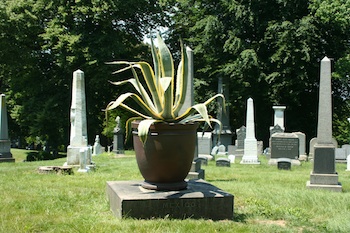 UPDATE: I've gotten permission to go ahead with this project. So we sent our cemetery surveyor out to check the lot to make sure that there's sufficient room there to place a dozen or so bronze plaques on granite bases. He's reported back: no problem. Now I'm trying to figure out how to document the service of these men so that the Veterans Administration is satisfied with proof of their service and supplies the bronze plaques.
In the meantime, Art Presson, our superintendent of the grounds, has offered his own contribution–this very large agave and pot, in the spirit of Mexico.