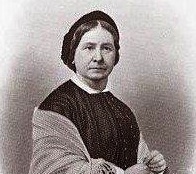 Here are some of Green-Wood's permanent residents whose birthdays fall in the month of December:
December 1, 1795: Gamaliel King, designed Brooklyn's City Hall (now Borough Hall) and the original Kings County Courthouse (now demolished); born on Shelter Island; died in 1875.
December 5, 1841: Marcus Daly, born in Ireland, immigrated to America as a penniless teenager, worked as a miner, and became known as the "Copper King" when he discovered vast deposits of copper in Butte, Montana.  He built a vast fortune with Anaconda Copper; died in 1900.
December 6, 1865: William Surrey Hart the leading cowboy movie star of the silent screen and has a star on the Hollywood Walk of Fame. A friend of frontier lawmen Wyatt Earp and Bat Masterson, he was known for the authenticity of his movies which included Tumbleweeds and Hell's Hinges; born in Newburgh, New York; died in 1946.
December 12, 1832: Mauritz Frederik de Haas, born in the Netherlands and studied painting in his native country and in London. Under the patronage of August Belmont, he immigrated to New York City and became an academician of the National Academy of Design. He specialized in marine subjects and was a founder of the American Society of Painters in Water Colors; died in New York City in 1895.
December 16, 1807: William Henry Aspinwall ran New York's largest trading house, built the Panama Railroad, and dominated trade to South America and California.  Aspinwall also played an active role during the Civil War.  He was a strong supporter of Lincoln and a founder and vice president of the Union League Club; born in New York City; died January 18, 1875.
December 16, 1819: Robert Selden Garnett, born in Virginia, was a lifetime military officer. When he was stationed in California in the 1850s, he designed the seal of that emerging state. He resigned his commission in the United States Army in 1861 to serve the Confederacy and soon gained the distinction of being the first general killed in battle during the Civil War, dying on July 13 at the Battle of Carrick's Ford, after he walked out in front of his men to demonstrate calmness under fire and was shot down.
December 18, 1883: Walter Dorwin Teague was born in Illinois. Trained as an architect, he became one of the leading industrial designers of the 20th-century, playing a key role in the design of the New York World's Fair of 1939 and designing Kodak and Polaroid cameras, Texaco gas stations, glassware for Steuben, and Boeing airplanes; died in 1960.
December 18, 1807: Phoebe Worrall Palmer was a native of New York City. She became a Methodist itinerant minister and championed the idea of Christian perfection throughout the world. In 1850, she helped found the Five Points Mission in one of New York City's toughest slums; died in 1874. Her image is above.
December 22, 1960: Jean-Michel Basquiat, born in Park Slope, began his painting career with Lower Manhattan street graffiti, signed with the pseudonym SAMO. He befriended and became an Andy Warhol protégé, creating paintings that now sell for millions of dollars; died in 1988.
December 22, 1837: Horatio Collins King, was born in Portland, Maine. He enlisted in the Civil War and rose to command the commissary department of the Army of the Potomac. It was from his supplies that were drawn provisions for the Confederates who surrendered with General Robert E. Lee at Appomattox Court House. He was awarded the Congressional Medal of Honor in 1897 for his actions near Dinwiddie Courthouse, Virginia, on March 31, 1865. His citation reads: "While serving as a volunteer aide, carried orders to the reserve brigade and participated with it in the charge which repulsed the enemy." Long active in Brooklyn politics and veterans affairs; died there in 1918.
December 23, 1818: DeRobigne Mortimer Bennett became a Shaker herbalist, then left that community to marry. He devoted the rest of his life to social activism and freedom of thought as the published of The Truth Seeker, which had 50,000 devoted readers, including Mark Twain and Clarence Darrow. His journal popularized Darwin's theory of evolution and birth control; it also opposed doctrinaire religion. He became a free speech martyr when he spent a year in prison rather than be silenced; died in 1882.
December 24, 1808: Henry Walke, born in Virginia, was a veteran naval officer when the Civil War began. He served the Union throughout the Civil War, commanding many ships. After the war, he rose to the rank of rear admiral. Over the years, three ships have been named the U.S.S. Walke in his honor; died in Brooklyn in 1886.
December 25, 1820: Thomas William Sweeny, born in Ireland, served in the Mexican War, where he lost his right arm, then served as a general in the Civil War. In 1866, as the Fenian Secretary of War, in an effort to bring pressure on the British to free Ireland, he led a force of Irish-Americans north to capture Canada. The invasion was a fiasco, and, for his efforts, he was arrested by U.S. officials but was released without a trial. He then returned to active U.S. Army duty, retiring as a brigadier general in 1870 after being found "incapacitated for active service" due to his many war wounds. The Army & Navy Journal described him as "as gallant, warm-hearted and impulsive an officer as ever wore the uniform." His last public act was his effort to build a home for Confederate veterans in Texas; died in Astoria, Queens in 1892.