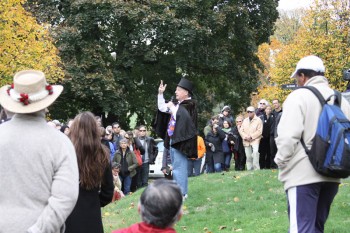 Green-Wood is the ideal place for your group's next outing. With grand, sweeping views of Manhattan, beautifully designed landscapes, and 175 years of American history, Green-Wood is an enlightening and enjoyable day trip for any group.
On your private tour, your group will hop aboard our historic trolley as a Green-Wood tour guide tells the story of this magnificent landmark and the fascinating people interred here.
Tours last approximately two hours and are available for booking during all business hours. For more information or to book your tour, call 718-210-3074 or email contactus@green-wood.com. Private group tours are priced and designed for large groups (generally between 25 and 60 attendees) to have a guided exploration of Green-Wood. Smaller groups of visitors should check our regular schedule of tours and events to get tickets to an existing public tour.
Attention Tour Guides
We also welcome tour guides to bring outside groups to Green-Wood. Independent tour leaders must email contactus@green-wood.com or call 718-210-3074 in advance to schedule the tour. Failure to register your tour with Green-Wood may result in denial of access to Green-Wood for your group. There is a $5 fee for each person attending your tour; these funds assist the Green-Wood Historic Fund in its ongoing preservation and restoration efforts at the cemetery.