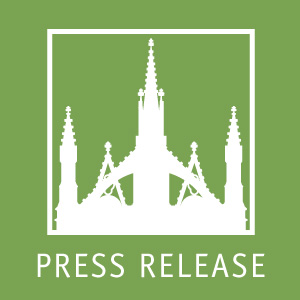 CONTACT at Green-Wood Cemetery:
Kim Esp: 212-575-4545; kesp@lakpr.com
Linden Alschuler & Kaplan Public Relations
Brooklyn Borough President:
Mark Zustovich: 718-802-3830
BROOKLYN BOROUGH PRESIDENT MARTY MARKOWITZ
PRESIDES AS BOROUGH HALL'S GIANT BALSAM FIR
IS MULCHED AT GREEN-WOOD CEMETERY
Green-Wood Cemetery And Brooklyn Botanic Garden Host
8th Annual Christmas Tree Chipping & Free Wood Chip Mulch Giveaway
FOR IMMEDIATE RELEASE
Brooklyn, NY—January 9, 2010 —Brooklyn Borough President Marty Markowitz presided as Borough Hall's 40-foot balsam fir was the first of many trees to be turned to mulch at Green-Wood Cemetery this morning at the annual Christmas Tree Chipping and Free Wood Chip Mulch Giveaway presented by Brooklyn Botanic Garden and Green-Wood Cemetery.  Richard J. Moylan, president of Green-Wood Cemetery and Scot Medbury, president of Brooklyn Botanic Garden were also on hand.
"January is a time of renewal, so it is fitting that we take this time to remember how recycling helps renew our beautiful grounds," said Moylan. "Just as our Historic Fund preserves our past, this important event brings together community members to preserve our dynamic borough of Brooklyn.  I would like to thank borough president Marty Markowitz for his continued support of Green-Wood."
"We are delighted to continue our annual collaboration with Green-Wood and borough president Marty Markowitz, and share our expertise and enthusiasm for sustainable gardening practices," Medbury said. "Recycling these trees into wood chip mulch gives local residents another tool to help make their neighborhoods greener and more beautiful—which is a top priority for BBG as we launch our second century of service to Brooklyn and beyond."
Offering up a rhyme, Markowitz said, "Tannenbaum o tannenbaum, you've graced us with beauty—you've made the season merry and bright. But all good Brooklynites must now do their duty—and dispose of that tree just right! No sidewalks, no landfills, don't kick it to the curb—recycle it back whence it came! Take your tree to Green-Wood where the mulching's superb—and old trees help new trees lay claim!"
Participants had the chance to speak with Master Composters from the NYC Compost Project in Brooklyn about the ways to use and benefits of applying wood chip mulch in gardens—how mulch protects the soil, helps retain soil moisture, protects against heavy rain damage, increases the survival of new trees, and reduces the growth of weeds.
Green-Wood offers free mulch all year round on a daily basis from 8:00 a.m. to 4:30 p.m.
The NYC Compost Project in Brooklyn is funded by DSNY's Bureau of Waste Prevention, Reuse and Recycling and hosted at Brooklyn Botanic Garden.
# # #
ABOUT HISTORIC GREEN-WOOD CEMETERY: Established in 1838, Green-Wood Cemetery is built on 478-acres and boasts extraordinary works of 19th century art and architecture. Home to hundreds of famous historic figures in New York City history, Historic Green-Wood Cemetery offers many tours of its facilities and also offers concerts and events to the public throughout the year.  It was designated a National Historic landmark by the US Department of the Interior in 2006. For more information about Green-Wood Cemetery visit www.greenwoodcemetery.org.
About Brooklyn Botanic Garden: Founded in 1910, Brooklyn Botanic Garden (BBG) is an independent nonprofit institution committed to education, research, and the display of horticulture. BBG serves communities in New York City and internationally through its world-class gardens, extensive research collections, and numerous educational and community programs. Situated on 52 acres in the heart of Brooklyn, the Garden is home to over 12,000 kinds of plants and hosts more than 725,000 visitors annually. Brooklyn Botanic Garden was rated Brooklyn's number one tourist attraction in Zagat's 2008 Best of Brooklyn.
Brooklyn Botanic Garden is open from 8 a.m. to 4:30 p.m. Tuesday through Friday, and from 10 a.m. to 4:30 p.m. on Saturday and Sunday. The Garden is closed on Mondays (but open for weekend hours on Martin Luther King Jr. Day and President's Day) and closed on New Year's Day, Thanksgiving, and Christmas. Admission is $8 for adults and $4 for senior citizens (65 and older) and students with ID. Children under 12, all school groups, and Garden members are admitted free at all times. Seniors are admitted free all day Friday, and the Garden is free to the public all day on Tuesdays and until noon on Saturdays (except Saturdays of major Public Programs such as Chile Pepper Fiesta). Enjoy FREE weekday admission from November 18, 2009 through March 3, 2010. Visitor entrances are at Flatbush Avenue, at the parking lot gate at 900 Washington Avenue, and at Eastern Parkway. By subway, take the 2 or 3 train to Eastern Parkway, the B (weekdays) or Q train to Prospect Park, the 4 train to Franklin Avenue, or the Franklin shuttle to Botanic Garden. By bus, use the B16, B41, B43, B45, B48, or B71. Attended parking (for a fee) is available at 900 Washington Avenue. For more information, please visit bbg.org.