This is a guest blog by Benjamin Feldman, a great Green-Wood and New York City enthusiast who is the author of "Butchery on Bond Street: Sexual Politics and the Burdell-Cunningham Murder Case in Ante-Bellum New York" and "Call Me Daddy: Babes and Bathos in Edward West Browning's Jazz-Age New York."  Ben blogs at The New York Wanderer.
New York's City Hall, designed by Green-Wood resident John McComb, Jr. and Joseph Mangin, has stood, majestic, since 1811. It is little changed from the day it was built save an Alabama limestone cladding added in the mid-1950s.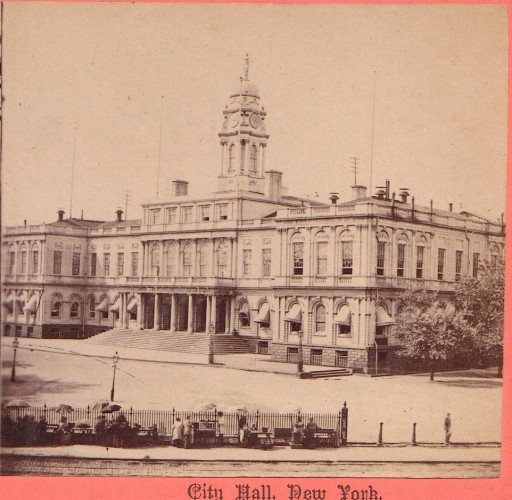 McComb's name is seldom recognized today, even though several of his buildings survive in Manhattan: Gracie Mansion (1799), now the Mayor of New York City's official residence in the north end of Carl Schurz Park at 89th Street and East End Avenue, Castle Clinton (1808), the fort at the Battery and Hamilton Grange (1802), Alexander Hamilton's country estate recently moved to yet another site in St. Nicholas Park in substitution for its original nearby emplacement.
McComb (1763-1853) had a distinguished career in New York and Princeton, New Jersey. Besides residences and churches, he designed lighthouses at Montauk, New York, Eatons Neck, New York, and Cape Henry, Virginia– all three of which survive to this day.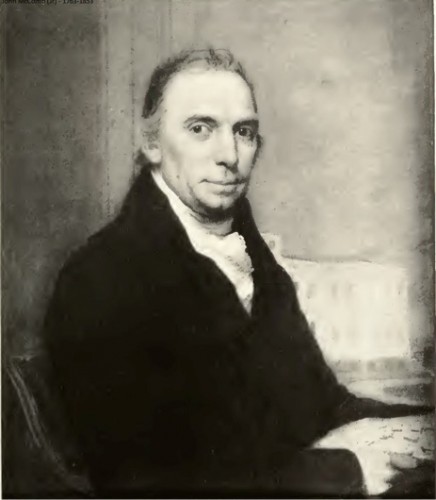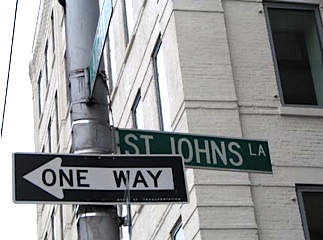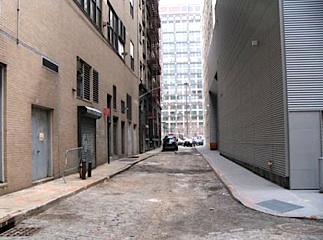 A peculiar palimpsest of one of McComb's most magnificent designs sits on the corner of Canal and Laight Streets, though, hard bythe southerly side of the Holland Tunnel entrance. The roar of the truck traffic and stench of fumes overwhelm one's senses as one stands by a simple blue-green street sign. St. John's Lane survives to this day, paved with Belgian block, a narrow two-block long thoroughfare connecting Canal with tiny Beach Street. Until 1918, the lane ran along the rear of St. John's Chapel, a Trinity Parish Episcopal Church whose membership in the early 19th century was select and upper crust.
St. John's Church faced the genteel St. John's Park, and its communicants counted the likes of George Templeton Strong's family, and many members of polite downtown New York society in the earliest decades of the 19th century when upper-middle class houses lined Greenwich, Washington and other downtown streets as well as Broadway itself. Here, now, is the St. John's Chapel in all its glory, inside and out, with views of the park in the days when City Hall Park (then known simply as City Park) was the only significant public (and not so safe!) green space in town.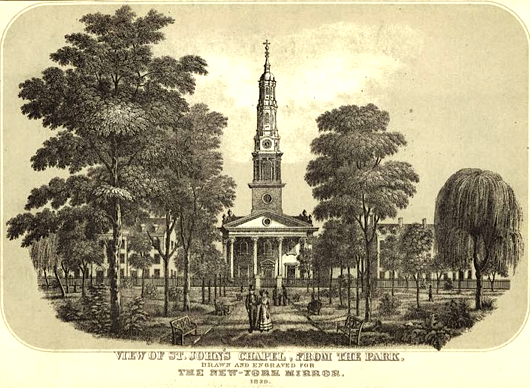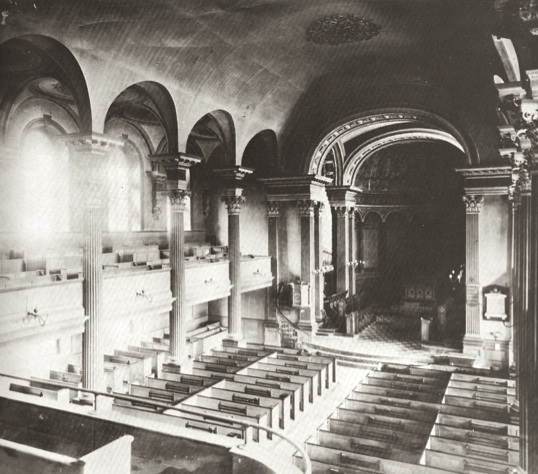 Columbia College frequently held assemblies and commencements in the sanctuary in the decades before and after Strong's matriculation at what had been known as King's College in colonial times. The College was located on College Place (now West Broadway), near Barclay Street. John Ericsson, inventor of the Monitor ironclad (several of whose officers are permanent residents of Green-Wood–see that blog post here), lived on adjacent Beach Street at #36, which survived well into the 20th century. The gates to the park were kept locked and access afforded only to local residents. A 1914 article in the New York Times documents the former bygone gentility of the neighborhood.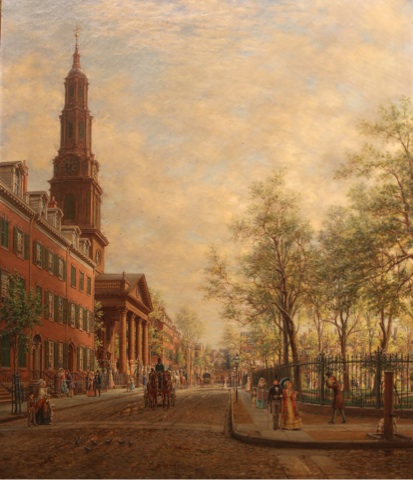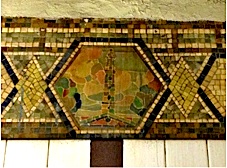 Taken from I.N. Phelps Stokes The Iconography of Manhattan Island (Vol. 3, Addenda Plate 11-c) are the pre-construction sketches McComb did of the Church: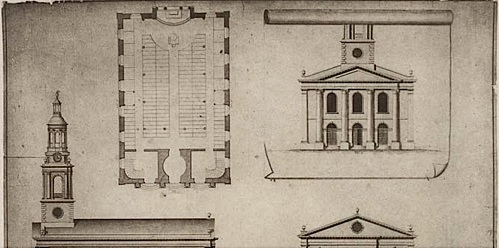 One of McComb's most magnificent homes still stands at Battery Place. It is the Isaac Watson House, built in 1799 and used for many decades as the Shrine to Saint Elizabeth Seton (who had lived there with her family as a girl).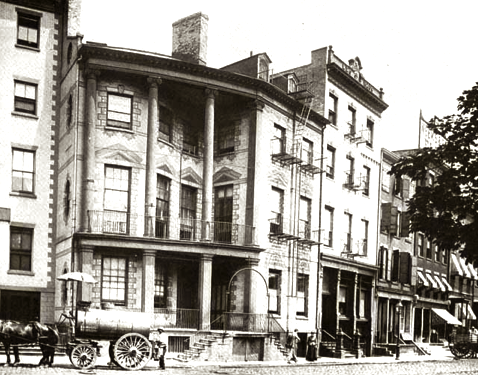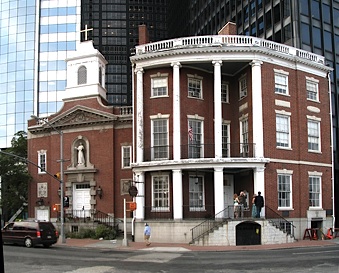 Society moved uptown gradually in the 1820s, 30s and 40s, first to Bond Street, Washington Square and Astor Place, then farther north to Union Square and Gramercy Park, thinning the ranks of St. John's Church quite dramatically. Gradually, the neighborhood around St. John's filled with warehouses and factories, and in 1867 Trinity Parish (which owned both the park and the church) sold it to "Commodore" Cornelius Vanderbilt's Hudson River Railroad for a massive downtown freight terminal.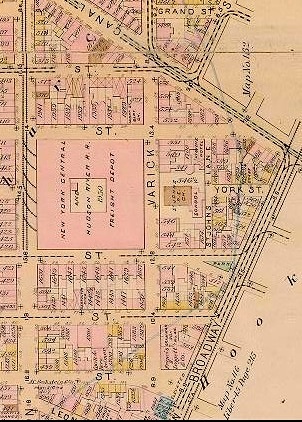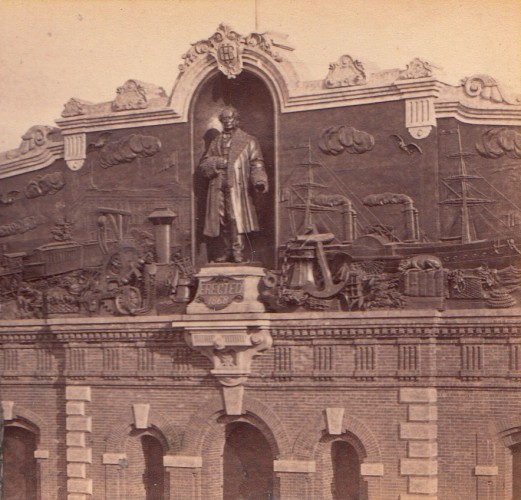 The undesirable influences of grade-level freight operations spread in every direction, and a neighborhood of once patrician dwellings was converted to a crazy quilt of ramshackle buildings and giant lofts. Here is a photo taken as the park was being demolished, leaving the dignified Chapel an orphan in time: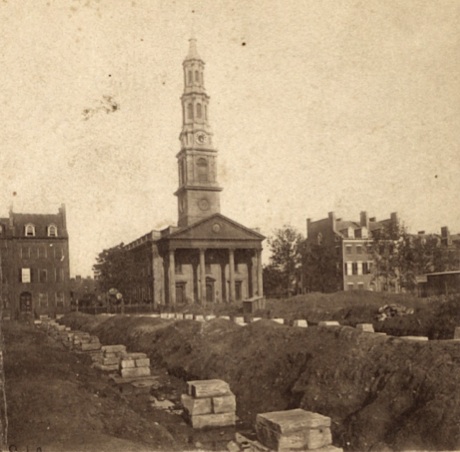 St. John's congregation left for good in the 1890s and the church was torn down in 1918. It was cleared during a road-widening scheme for New York City's Varick Street– highly controversial at the time. City officials were cognizant of the landmark importance of the old steeple and wished the portico to remain, projecting into the widened street and vaulting the flanking pedestrian sidewalk. Ever aware of maximizing parish income from its extensive real estate holdings, Trinity Parish instead decided to demolish the building and put the site to other income-producing purposes.
John McComb Jr.'s name may have slipped out of common parlance decades ago, but his memory is preserved at Green-Wood Cemetery where his grave and those of his family lie on a Chapel Avenue hillside, demarcated by a simple obelisk. Canal Street's roar is far away…