(Sold Out) Love Immemorial
February 13, 2016, 1:00pm

–

3:00pm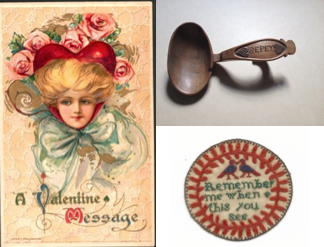 This event is sold out. Make sure you never miss out on tickets again! Green-Wood members get access to tickets weeks before the general public. Join today.
Join Nancy Rosin, President of the National Valentine Collectors Association, for this time-traveling presentation on valentines and other items that serve as expressions of love. In today's world, valentines are generally relegated to children's classrooms, but in the Victorian era (and before) there was a real need to give and receive tokens of love. Life was often shorter, distances longer, and sometimes friends, family, and lovers said goodbye without knowing if they'd ever communicate again. Objects of affection – be they romantic cards, hand-carved coins, locks of hair, or more – were touchstones for those left behind. Those traditions continued in death and mourning, and in many ways influenced the way we celebrate our modern Valentine's Day.
In Green-Wood's Historic Chapel, Rosin will discuss the history of this time-honored tradition, and display many pieces from her impressive collection of historic items. After the talk, a trolley tour through Green-Wood (including toasty beverages!) will feature expressions of love rendered in stone, on the monuments and memorials of many permanent residents.
$20 for members of Green-Wood and BHS / $25 for non-members. Seating is limited, and reservations are recommended.
Green-Wood trolley tours are fully accessible and ADA compliant.