Hot Time in the Old Town: The Great Heat Wave of 1896 and the Making of Theodore Roosevelt
July 9, 2011, 1:00pm

–

3:00pm
Saturday, July 9, 2011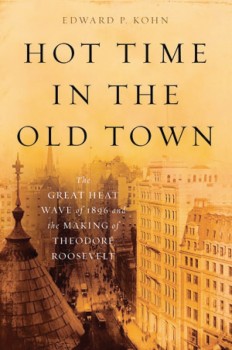 "An engrossing account of this forgotten episode . . . A hell of a story." —The Wall Street Journal
"Excellent read." —Jon Stewart, The Daily Show
115 years ago this summer, the 1896 New York City heat wave—one of the worst natural disasters in American history—killed almost 1,500 people (scores of whom are interred at Green-Wood). The heat coincided with a pitched presidential contest between William McKinley and William Jennings Bryan and the progressive efforts of police commissioner Theodore Roosevelt to aid the city's poor. Edward Kohn vividly captures the tale in Hot Time in the Old Town, which will be issued in paperback this summer. Afterward Kohn's talk, join Green-Wood historian Jeff Richman for a visit to the gravesites of many of the victims, as well as selected notables of the period.
Book talk: free. Reservations recommended. Reserve at 718-210-3080 or online here.
Trolley tour: $10 for members of The Green-Wood Historic Fund / $20 for non-members. Reservations strongly recommended; click here to purchase advance tickets online or call 718-210-3080.
PLEASE NOTE: This program and the trolley tour that follows the book talk is quickly approaching a sold-out status. Please be sure to reserve a spot online as soon as possible. With the limited number of seats in the chapel and also on board the trolley, we unfortunately cannot guarantee you a seat unless you have an advance reservation.