1 p.m. Historic Trolley Tour
July 13, 2011, 1:00pm

–

3:00pm

$15
Wednesday, July 13, 2011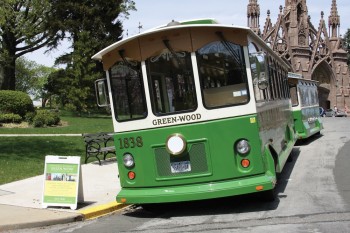 Every Wednesday there is a historic trolley tour at Green-Wood. Tours last approximately two hours and feature the beauty of Green-Wood's grounds, the Cemetery's history, its bird life, the most fascinating tales of its permanent residents, views of Manhattan's skyline, The Green-Wood Historic Fund's Civil War Project and its preservation program, and more. The trolley is heated, air conditioned, and enclosed.
This will be a Far Side of Green-Wood tour. Click here for more information on Green-Wood's rotation of three different tours.
The tour includes several stops where visitors have the option to walk outside. Tickets are $10 for members of The Green-Wood Historic Fund and $15 for non-members. Trolley tours are very popular and sometimes sell out in advance, therefore reservations are strongly recommended — not required, but recommended. Call 718-210-3080 or click here to purchase advance tickets.
Green-Wood's Wednesday trolley tour guide, Marge Raymond, fell in love with Green-Wood Cemetery 25 years ago as a birdwatcher and naturalist. She brings to her tours her enthusiasm and passion for Green-Wood's famous residents, its history, trees and animals. Marge, a professional singer, has been a volunteer since 2002 with The Green-Wood Historic Fund's Civil War Project and has helped to staff The Historic Fund's information and sales cart since its inception. She has been known to break into an occasional song during her tours.
Meeting Point: Inside Main Entrance at 25th Street and 5th Avenue