History Happy Hour: Green-Wood's Magnificent Monuments
May 18, 2021
,
6:00pm
–
7:00pm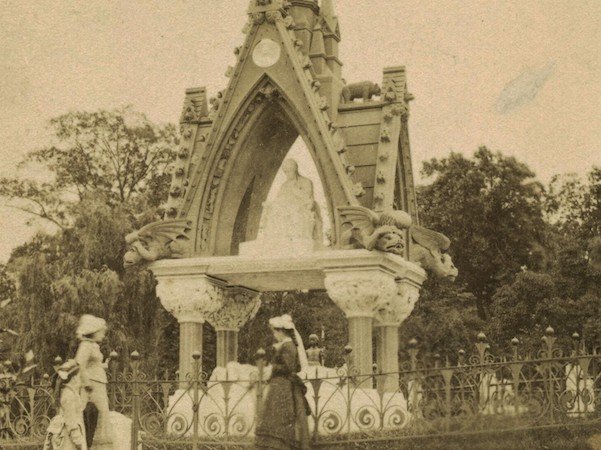 Over the course of the nineteenth century, Green-Wood's management codified an extraordinary range of guidelines for future permanent residents and their families, including the need to avoid "tame and uninteresting" and "injurious or offensive structure(s)." The Cemetery's open-air archive of diverse architectural and sculptural styles—from neo-Gothic to Egyptian Revival and beyond—is a testament to clients' competitiveness, the city's changing tastes, and the desire to leave one's mark. Learn more about some of the Cemetery's most extraordinary and prodigious resting sites, including those of seventeen-year-old Charlotte Canda, aspiring Mayoral candidate John Anderson, and John Matthews—America's "soda fountain king."
While we can't actually bring the bar or the drinks to you, we can offer some history on tap! Bring your own beverage–why not try our recommended cocktail of the evening–and raise a glass to the past as we stay connected through our latest series, History Happy Hour.
$9 / $4 for members. A Zoom link and recipe will be in your confirmation email upon registration.
Not a Member?
Click here for all of our membership levels and information.
Already a Member?
Click the gray tickets button to activate the Eventbrite pop-up, then click Enter promo code. Type in your ID number to access your discounted tickets.
Questions?
Don't know your Member ID number? Not sure which ticket or membership type to order? Call 718-210-3080 or email contactus@green-wood.com with any questions.