After the End: Artist Talk
September 30, 2021
,
6:30pm
–
8:00pm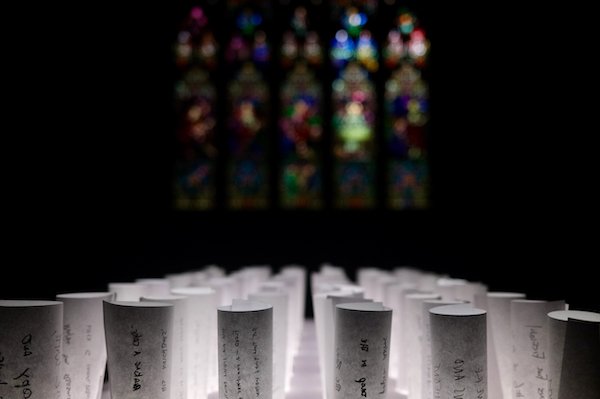 Join us for a special evening with artists Candy Chang and James Reeves as they discuss their newest collaboration, After the End. There will be an opportunity before and after the conversation to experience the installation in the Historic Chapel. The talk will take place in the Modern Chapel.
Influenced in equal parts by religious ceremonies and science fiction, artists Candy Chang and James A. Reeves have created a public ritual to contemplate loss in all forms: the loss of loved ones, relationships, health, and worlds we once knew—as well as the practices that have helped us endure. Visitors are invited to share their experience on a scroll and place it upon an illuminated altar. Lit from within, each response becomes a devotional candle, and together they form an evolving field of light. Selected reflections will be projected throughout the Chapel, and visitors can sit in the apse to contemplate the experiences of others as well as their own. After the End offers a modern refuge that reminds us we are not alone as we mourn the end of one reality and enter the next.
For over a decade, Chang and Reeves have collaborated on public rituals to contemplate the human condition. Their installations have been exhibited at the Rubin Museum of Art in New York City, the Annenberg Space for Photography in Los Angeles, and the Mural Arts Program in Philadelphia. Inspired by the devotional practices of religion, the ancient I Ching, and cyberpunk visions, Chang and Reeves create public works that facilitate conversations about reckoning with an increasingly alienating world. To learn more, visit ritualfields.com.
After the End was made possible by a generous grant from the National Endowment for the Arts.
Free and open to the public with a reservation. Please consider a donation to the Green-Wood Historic Fund when reserving so that we can continue to offer free and low-cost programs throughout the year.
MANDATORY SAFETY PROTOCOLS
Attendees must provide proof of vaccination. Without proof of vaccination, you will not be admitted to the program.
Follow ALL instructions and guidance from Cemetery staff and ambassadors.
Travel Safely: Green-Wood recommends following all safety precautions while traveling to and from the Cemetery, whether by foot, mass transit, or driving. If taking mass transit, please check the MTA's guidelines.
Feeling Sick? Stay home if you are feeling sick or running a temperature. Please use good judgement if you have recently been exposed to someone with COVID-19. For more information about COVID-19, please check the CDC website.
Green-Wood reserves the right to deny entry to any visitor who refuses to comply with the safety guidelines.
If you observe a situation or behavior that does not reflect these protocols, please advise an ambassador or other staff member immediately. With everyone's cooperation this will be a memorable and safe unique experience.