A Story Stitched in Time: The Life Of Rosena Disery
May 19, 2021
,
6:00pm
–
7:00pm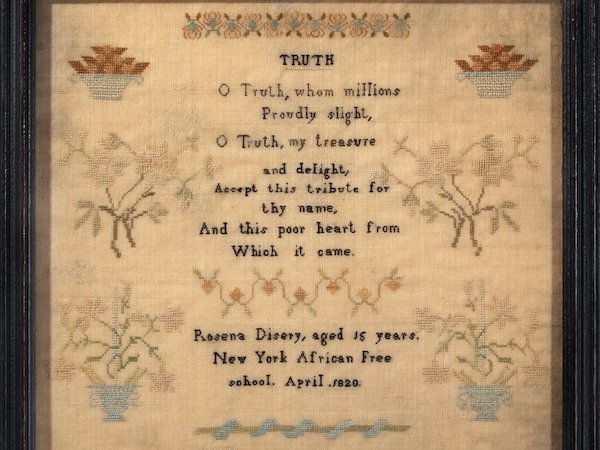 Every object tells a story—and this one-of-a kind embroidered piece in the collections of The New-York Historical Society is no different. In 2011, Margaret K. Hofer, now vice president and museum director at N-YHS was contacted by an antiques dealer who had come across a rare find: a sampler (a demonstration of embroidery technique) made by fifteen-year-old Rosena Disery in 1820, while a student at New York's African Free School. Hofer virtually joins Green-Wood Historian Jeff Richman, to discuss how this one object helped to uncover the fascinating life story of Rosena (interred at Green-Wood as Rosanna Van Dyke) and her family, who, against the odds, prospered in nineteenth-century New York City.
This conversation is part of our series of virtual programs about the history of Green-Wood and its permanent residents, Zooming in on History.
$9 / $4 for members. A Zoom link will be in your confirmation email upon registration.
Not a Member?
Click here for all of our membership levels and information.
Already a Member?
Click the gray tickets button to activate the Eventbrite pop-up, then click Enter promo code. Type in your ID number to access your discounted and/or free tickets.
Questions?
Don't know your Member ID number? Not sure which ticket or membership type to order? Call 718-210-3080 or email contactus@green-wood.com with any questions.