1 p.m. Lost Amusement Parks of New York City
October 11, 2014, 1:00pm

–

3:00pm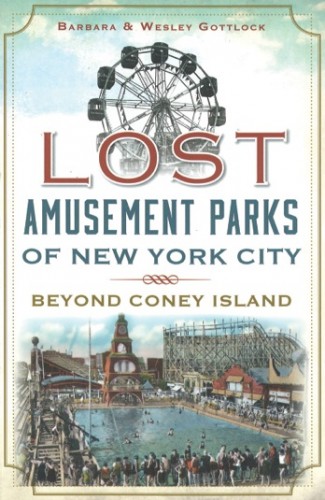 Coney Island is an iconic symbol of turn-of-the-century amusement in New York City, but many other parks vied for the chance to thrill the residents of the five boroughs. The wooden coasters of Fort George in Manhattan, the beer gardens and circus atmosphere at North Beach in Queens, and the blasting fireworks displays at Starlight Amusement Park in the Bronx were just a few of the venues that entertained millions each year. The second half of the century saw the disappearance of every one of these parks, culminating with the demise of Rockaways' Playland in Queens and Freedomland in the Bronx, the largest amusement park in the world. Wes and Barbara Gottlock, authors of a book on the subject, will celebrate these entrepreneurial wonders and discuss the reasons for their declines, complete with wonderful and haunting images of heydays and destruction.
Presented in conjunction with William F. Mangels: Amusing the Masses on Coney Island and Beyond, an exhibition in Green-Wood's Historic Chapel.
This event has two parts, with separate tickets for each part:
The free talk in the historic Green-Wood chapel. (Update: This part of the event is sold out).
A guided trolley tour immediately following the talk. Tickets are $15 for members of the Green-Wood Historic Fund and BHS and $20 for non-members.
Please include both free talk tickets and trolley tour tickets in your order if you would like to attend both parts of the event. Seating is limited for both the talk and the trolley tour, and reservations are recommended.