1 p.m. Historic Trolley Tour
September 11, 2011, 1:00pm

–

3:00pm

$15
Sunday, September 11, 2011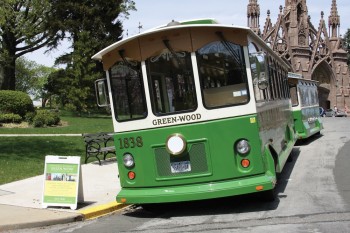 Experience the most magnificent and historic 478 acres in New York City. Join our expert tour guide to hear fascinating stories of Green-Wood's permanent residents, see breathtaking views of Manhattan, tread where George Washington and his troops fought the Battle of Brooklyn and much more.
Dates: Sep 11 & 25, Oct 30, Nov 13 & 27
All Sunday tours will follow the "Discover Green-Wood" route. Click here for more information on Green-Wood's rotation of three different tours. Each boasts great views, beautiful monuments throughout, rolling hills, century-old trees and stories of the fascinating persons interred at Green-Wood, in addition to a visit to the Historic Chapel and to Battle Hill and several stops where visitors have the option to walk outside.
Green-Wood's trolley tour guide Marge Raymond fell in love with Green-Wood Cemetery 25 years ago as a birdwatcher and naturalist. She brings to her tours her enthusiasm and passion for Green-Wood's famous residents, its history, trees and animals. Marge, a professional singer, has been a volunteer since 2002 with The Green-Wood Historic Fund's Civil War Project and has helped to staff The Historic Fund's information and sales cart since its inception. She has been known to break into an occasional song during her tours.
Meeting Point: Inside Main Entrance at 25th Street and 5th Avenue
$10 for members of The Green-Wood Historic Fund / $15 for non-members. Seating is limited. Reservations strongly recommended.
To purchase advance tickets, call 718-210-3080 or select the date of the tour desired below, specify ticket quantity, and click Order Now. Green-Wood Historic Fund members should enter their discount code where specified to activate their reduced ticket price. If you would like to purchase a new membership (more information here) in addition to event tickets, choose the quantity of the advance tickets and membership desired before clicking Order Now. New members' credit cards will be refunded for their ticket discount once the order has been processed, and they will receive a discount code to use for future orders.