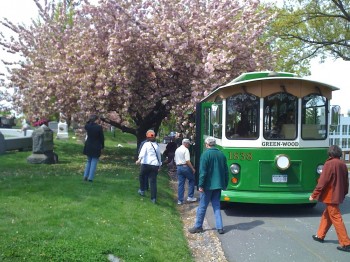 NOTE: All tours visit Green-Wood's Historic Chapel and Battle Hill, the site of George Washington's 1776 Battle of Brooklyn. Tours are conducted on the Green-Wood trolley, but do entail some walking and stair-climbing.
Discover Green-Wood:
You will also visit De Witt Clinton, Leonard Bernstein, Elias Howe, who patented the sewing machine and whose dog Fannie has a longer epitaph than Howe's wife, William Holbrooke Beard, painter of The Bulls and Bears in the Market, the Civil War Soldiers Lot with the Little Drummer Boy, John MacKay who mined the famous "Comstock Lode" of silver in Utah, Henry Ward Beecher, Boss Tweed, ASPCA founder Henry Bergh, the Green-Wood catacombs, the Theodore Roosevelt Family Lot, Indian Princess Do-Hum-Me, George C. Tilyou, founder of Coney Island's Steeplechase, and the Civil War veterans and brothers William and Clifton Prentiss, who fought on opposite sides, but who died astride each other on the same battlefield.
The Far Side of Green-Wood:
Travel the perimeter roads and visit all four glacial ponds; gangster Johnny Torrio (Al Capone's boss); the father of baseball, Henry Chadwick; the monument to a bride who died on her wedding day; Charles Feltman, the inventor of the hot dog; the Solon Borglum's magnificent sculpture of Azrael, the Angel of Death; the legend of the Mafia Bride; the world-famous courtesan Lola Montez; the theater impresario William Niblo who picnicked by his mausoleum while still alive; the magnificent Valentine Angel; Samuel Chester Reid, designer of the American flag; Frank Morgan, the actor who played The Wizard of Oz and much more.
Hidden Gems of Green-Wood:
We will see Louis Moreau Gottschalk, the first matinee idol, with a walk to see My Wife Jane – the sculpture of a man's last memory of his beloved wife. We will also see the magnificent memorial to Charlotte Canda, who was killed on her seventeenth birthday when thrown from a horse carriage; Chester Jenings, the inventor of room service; the monument to Rex the Dog; the Schermerhorn Family mausoleum; Jean-Michel Basquiat (who first gained notoriety as a teenage graffiti poet and who became one of the most accomplished artists of his generation); Cedar Dell and its 18th-century brownstone monuments with skull and crossbones; The Sea Captain; William "Bill the Butcher" Poole (featured in the movie Gangs of New York); the Pierrepont Family open air mausoleum; the grave of Louis Comfort Tiffany and more surprises.