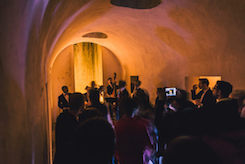 The Angel's Share series features the world premiere of David Hertzberg's The Rose Elf
Beginning in June 2018, Unison Media and The Green-Wood Historic Fund will present an all-new series of classical music concerts entitled, The Angel's Share, to be performed in Green-Wood's Catacombs. The highly-anticipated series will present opera and chamber music in one of the Cemetery's oldest structures.
Located directly in the center of this 478 acre National Historic Landmark, the Catacombs were built in the 1850s and are normally closed to the public.
The Angel's Share kicks off with the World Premiere of The Rose Elf, a chamber opera by composer David Hertzberg, directed by the visionary R. B. Schlather and starring award-winning mezzo-soprano Samantha Hankey. Hertzberg just won MCANA's "Best New Opera Award" for his last work, The Wake World (based on famed occultist Aleister Crowley), and in The Rose Elf he tells the tale of two lovers torn apart by a senseless act of violence; and of a strange and sensuous being, at once near and distant, who witnesses this tragedy and is transformed.
Performances: June 6, 8, and 10, 7:30 – 10 PM
The Singers: Samantha Hankey, The Elf; Alisa Jordheim, The Girl/Luna; Kyle Bielfield, The Beloved/Horus; Andrew Bogard, The Brother
The Orchestra: Teddy Poll, conductor; Zhenwei Li, clarinet; Bryn Coveney, horn; Bradley Loudis, percussion; Euntaek Kim, piano; Shannon Lee, violin; Abigail Fayette, violin; Sung Jin Lee, viola; John-Henry Crawford, cello; Sam Casseday, bass
Only With Your Support, Can We Make This Possible
Green-Wood and Unison Media are committed to making these tickets accessible to the community, at a price below $100 per ticket. Production values are high and the experience will be top notch. We must have outside financial support to make The Angel's Share and its premiere concert, The Rose Elf, happen.
$500 – 2 premium seats. (Tax deductible amount is $340)
$1,000 – 2 premium seats, plus recognition in the program. (Tax deductible amount is $840)
$2,500 – 2 premium seats at two performances of your choice, recognition in the program, plus you'll get the opportunity to meet cast and creatives after the show. (Tax deductible amount is $2,340)
$5,000 – 2 premium seats at two performances of your choice, recognition in the program, meet cast and creatives after the show, plus a private salon event with Samantha Hankey, David Hertzberg, and R.B. Schlather, at Unison's performance space in Long Island City. (Tax deductible amount is $4,460)
$10,000 – 2 premium seats at four performances of your choice, recognition in the program, meet cast and creatives after the show, plus a performance in your home with Samantha Hankey, David Hertzberg, and R.B. Schlather, guaranteed to make your soirée the talk of the town. (Tax deductible amount is $9,320)