Where has Anthony Berger gone?
In the 1860s, Anthony Berger ran Mathew Brady's Washington D.C. National Photographic Art Gallery. It was Berger who, during the Civil War, took some of the most famous portraits of President Abraham Lincoln. But, as noted in Mathew Brady and His World, "[c]amera operators came and went . . ." What happened to Berger after he left Brady's employ? Most importantly, for my purposes, did he wind up, in 1906, interred at Green-Wood Cemetery?
I ask because our Green-aelogy service recently received an inquiry about an Anthony Berger who is interred at Green-Wood. That Anthony Berger died in 1906. The researcher who sent that inquiry was searching for the Anthony Berger who had photographed Lincoln. She wanted more information–hoping to be able to determine that she had found the photographer. After she received the results of the Green-aelogy search, and took a look at her research, she concluded that the Anthony Berger interred at Green-Wood was not the Lincoln photographer.
But, now I'm not so sure. I'm thinking the Anthony Berger who is interred at Green-Wood just might be the man who took some of the greatest photographs of Abraham Lincoln.
So who was this Anthony Berger? Well, the Anthony Berger we are interested in worked as a photographer during the Civil War in the studio of the famed Mathew Brady. Brady has been known as a giant of Civil War photography for generations; many books have been written about the extraordinary photographs that were taken in his New York City and Washington studios. Most casual students of the Civil War know the name of one photographer: Brady. But Brady was more entrepreneur and promoter than photographer. Unfortunately, book after book about Brady has given short shrift to the artists–the camera operators, the men who actually took the photographs. I have looked at 7 books about Brady; one seems to mention Berger in a list of Brady employees but spells his name Burgess; another gives him credit for his two most famous portraits of Lincoln. But none of these books give any other information about Berger. Though we do know that Anthony Berger took a total of thirteen photographs of President Abraham Lincoln, more than any other photographer except Alexander Gardner (who managed Brady's National Photographic Art Gallery on Pennsylvania Avenue in Washington, D.C., until 1862, when he went into business on his own), little else is known of him.
We do know which Lincoln photographs are by Anthony Berger. This photograph by Berger was used as the basis for the Lincoln-head penny, the 15 cent stamp in 1866 and the 3 cent stamp in 1920: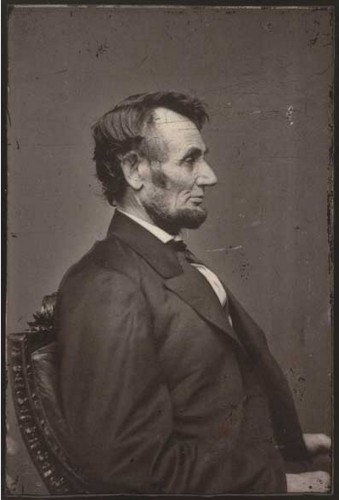 The Lincoln-head penny: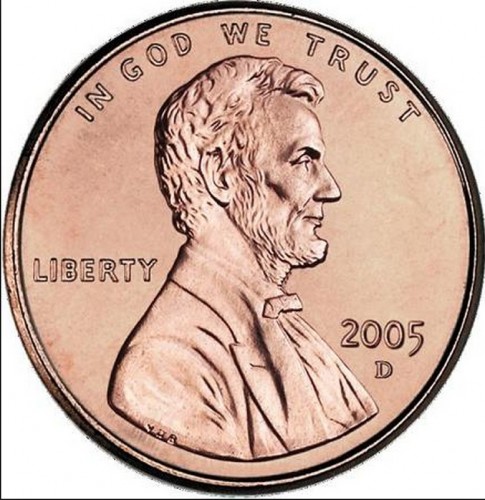 At the same sitting, Lincoln was photographed with his son Tad: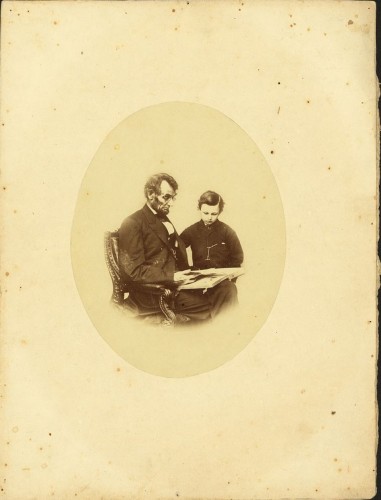 Berger also took this photograph of Lincoln; it was used for the image on the $5 bill:
And here's the 1928 five dollar bill: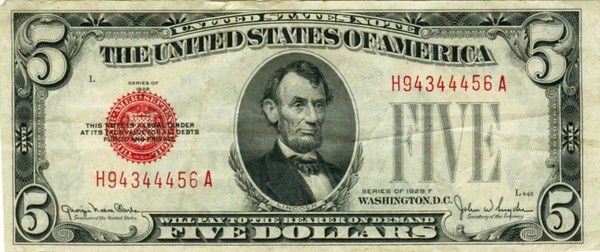 But what happened to this man, the photographer Anthony Berger, after he took these photographs of Lincoln?
The name Anthony Berger is surprisingly rare in America during the 1860s. In the 1860 United States census, there are only 5 men named Anthony Berger and 7 men with the alternative spelling of Anthony Burger in America. None of these 12 men is listed as living in Washington, D.C., or an adjoining state in the 1860 census. Of the 3 million plus men who served in the Union Army, only 3 were named Anthony Berger. One in a million! Further, no man in the Confederate Army had that name. And no man in either the Union or Confederate Armies was named Anthony Burger–a possible alternative spelling.
One of the men named Anthony Berger in the 1860 census is the man who winds up interred at Green-Wood soon after his death in 1906. We know this because that man, who in 1860 was living in the 9th Ward in New York City, lived with his wife Doras (her name would be spelled in a variety of ways over the years on censuses) and his son Louis. These names (and their years of birth) match those of the family members who are interred with Anthony Berger at Green-Wood. The 1860 census lists this Anthony Berger as a locksmith. Interestingly, in the 1890 Brooklyn Directory, the only Anthony Berger listed there is a locksmith living at 542 Greene Avenue. That was the address of the Anthony Berger and his wife who purchased the lot at Green-Wood in 1891. So it is clear that the locksmith of 1860 in Manhattan and of 1890 in Brooklyn is the man who is interred at Green-Wood in 1906. But might this Anthony Berger also the photographer who took the above photographs of Lincoln?
We know that a man by the name of Anthony Berger was working as a photographer in Washington, D.C. in the early 1860s. Is it possible that he, a humble locksmith, learned photography (perhaps at Brady's National Portrait Gallery at 785 Broadway in New York City, just south of Grace Church; that gallery was open from 1860 through at least the end of the Civil War in 1865); and moved to Washington to work for Brady in just a year or two? In that era, there were no four-year programs to get a degree in photography; you learned the art from a photographer, in a gallery. So, yes, it is possible that Brady, for whatever reason, hired Berger and taught him the trade. Can we prove that he did? No, we can't.
But the Anthony Berger trail gets warmer with an article in the Brooklyn Eagle on May 13, 1873, reporting that Brooklyn's newly-formed Photographic Art Association had held a meeting the night before at the studio of Alva Pearsall on Fulton Street in Brooklyn. The list of attendees includes several prominent photographers who would choose Green-Wood as their final resting place: Alva Pearsall, Charles H. Williamson, and Frank E. Pearsall. And, listed as a member of the executive committee: Anthony Berger! So we know that, in 1873, a man named Anthony Berger was a Brooklyn photographer–and a respected one, at that; otherwise he likely would not have been chosen for the executive committee. (Update: thanks to Pastor Jack Wilson, who found the Brooklyn Daily Union's report on the meeting of the Photographic Art Association for April, 1873, just a month earlier, in which it was reported that "Mr. Anthony Berger also read a paper "Retouching Negatives" and illustrated the same with pencil drawings: which was accepted and ordered on file." This is further evidence that this Anthony Berger was experienced in the photographic techniques).
What of Brooklyn directories? In the 1868 Brooklyn Directory, only one Anthony Berger is listed: an artist, whose home was at 1260 Atlantic Avenue. Similarly, the 1870 Brooklyn Directory lists Anthony Berger as an artist at 141 Montague Street. And, the 1872 Brooklyn Directory lists Anthony Berger as an artist at 193 Montague Street. This is likely a photographer; as the 1873 Brooklyn Eagle article makes clear, photographers often referred to themselves as artists.
After I wrote a first draft of this blog post, I took a day off to visit three antique shows in New York City. At the show at the Park Avenue Armory, I saw this: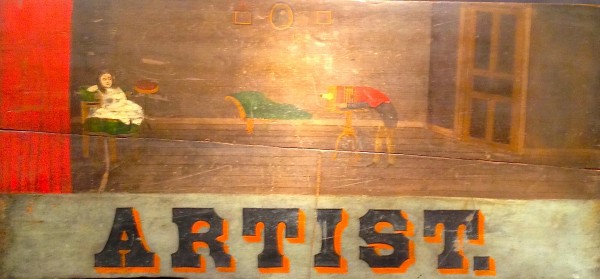 Upon closer examination, it is clear that "ARTIST" here meant photographer:
By the time of publication of the 1874 and 1876 Brooklyn Directories, the word describing this Anthony Berger's occupation had morphed from "artist" to "photographer:" he is listed in both of those directories as a photographer at 453 Fulton Street. And, in the 1877 Brooklyn Directory, Anthony Berger is listed as a photographer at 3rd Avenue near 51st Street, with his home at 453 Fulton. Notably, in the eight Brooklyn Directories that I checked–1874, 1876, 1877, 1889, 1897, 1898, 1900, and 1904, there is one and only one Anthony Berger listed. Further, it was unusual to be a photographer back then–in 1876, when the population of Brooklyn was about 500,000, the Brooklyn Directory lists only 64 photographers (or photographic partnerships). That's not many out of a population of half a million–roughly 1 in 10,000. So, perhaps it is more than a coincidence that a man named Anthony Berger worked as a photographer in Washington in the 1860s and an Anthony Berger worked in Brooklyn as a photographer in the 1870s. Perhaps it is the same man.
In the 1870 United States census, there are only 6 men named Anthony Berger and 3 named Anthony Burger for all of this country. A rare name. The issue, of course, is whether this Anthony Berger is Brady's Anthony Berger. We can't be sure. But we can be sure that there were very few men with that name in Brooklyn, New York City, or America.
There is one Anthony Berger or Burger in New York City in the 1870 census: Anthony Berger, 45 years old, lived with Doras Berger, a female, and a 15 year old female named Louisa. That, I believe, is an error by the census-taker; the year of birth for "Louisa" matches that of the Bergers's son, Louis, in other censuses. Here Anthony is again a locksmith. In the 1880 census, Anthony Berger (who is living with Dorathy (sic) and Louis Berger), is residing in New York City. He is listed as a bronze manufacturer born about 1826 in Germany. In the 1900 census, the three of them are living in Brooklyn. In the 1910 census, Dorotha (sic) and Louis are still residing in Brooklyn, but Anthony is not listed. He, as we know from Green-Wood's records, had died in 1906.
Is it possible that a man would be working in New York City in 1860 as a locksmith, be working a few years later in Washington as a photographer, be listed in Brooklyn as a locksmith, then as a photographer, then work in bronze, and then go back to working as a locksmith? Why not? Would the case be clearer if the man interred at Green-Wood was listed in census records as a photographer? Of course it would–but life is not always that simple.
There is one other Anthony Berger who shows up in New York City during this era. On June 18, 1897, that Anthony Berger applied for a passport. Intriguingly, his occupation is listed as artist–which could mean, as we have discussed and seen above, photographer (though the term "artist" was used more interchangeably with photographer in the early years of photography, when photographers were competing with painters as portraitists). Further, the Anthony Berger who applied for a passport states on his application that he was born in 1832. Certainly of appropriate age to have worked in the Brady Gallery in the 1860s. However, his application also states that he had resided in the City of New York from 1854 until the date of the application. That would seem to call into question whether he had worked, and seemingly lived, in or near Washington, D.C., for several years in the 1860s.
So, what do we have? We have a photographer with an uncommon name–Anthony Berger–who took several iconic images of President Abraham Lincoln during the Civil War. We have a photographer by the name of Anthony Berger who then appears in Brooklyn a few years later. And we have a man named Anthony Berger–of appropriate age to have been the photographer by that name who had worked in Brady's Washington studio–who is interred at Green-Wood. Given how unusual that name is, given that a photographer by that name was working in Brooklyn in the decade after Brady's Anthony Berger had worked in Washington, given that one and only one man with that name appears in the Brooklyn directories over a period of decades, it seems possible, perhaps even somewhat likely, that the Anthony Berger interred at Green-Wood is the photographer who captured Lincoln's image.
The Anthony Berger at Green-Wood died on March 16, 1906, of senility. He was 80 years, 4 months, and 14 days old. He was interred in section 165/166, lot 27767. He was born in Germany and last lived at 542 Greene Avenue in Brooklyn. He and his wife Dorothea had purchased their Green-Wood lot in 1891. Dorothea joined him in that lot in 1915. Their only son, Louis, joined them there in 1918. Is he the photographer who photographed Lincoln? Perhaps.
What do you think? Anyone out there have some clues?