The clock is ticking!
Our Kickstarter campaign, to raise money for our upcoming exhibition, "William F. Mangels: Amusing the Masses on Coney Island and Beyond," telling the story of the ingenious amusement park ride inventor who became the largest manufacturer of such rides in America, has only 10 days left. For more background on this, check out my earlier blog post.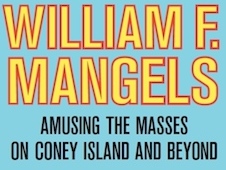 We have been getting great publicity for our campaign. On Sunday, June 8, the Daily News ran an article, "Green-Wood Cemetery historian seeks to memorialize amusement park pioneer William F. Mangels through Kickstarter-funded exhibit." Yesterday the New York History Blog put up "Brooklyn Cemetery Celebrates Amusement Park Pioneer." And we have just learned that, today, our Kickstarter campaign is the Project of the Day at Kickstarter: "We love the weird particulars of NY history, and this is a really cool project. Excited to see it come together." We are honored!
As I write this, we have 75 backers for our Kickstarter campaign. How about becoming our 76th backer–and beyond? Do it! Click here to watch our amusing and inspiring video–thanks Luke for your brilliant work on it-then make your contribution! You will be glad you did!!!