Ben Feldman is a great Green-Wood fan. Fascinated by history, he finds many of the subjects of his research and writing at Green-Wood. So, he wrote about Dr. Harvey Burdell and the woman who stood trial and was acquitted of his murder in 1857, Emma Cunningham, in Butchery on Bond Street. And, his book, Call Me Daddy, is about eccentric tycoon Edward Browning. Now Ben is about to release his third book: East, In Eden: William Niblo and His Pleasure Garden of Yore. All of these individuals now call Green-Wood home.
Ben also blogs at "The New York Wanderer." And this is his wonderful blog post about Charles Yerkes, street car magnate, robber barron, and prison inmate: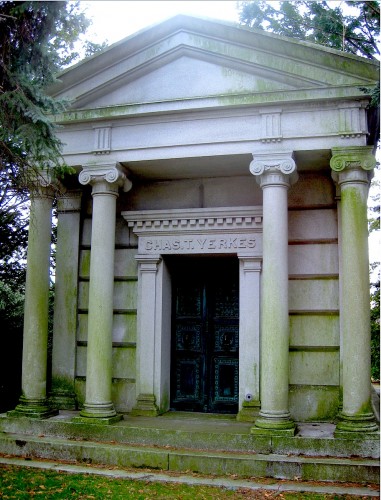 This piece is so fascinating that I wanted to share it with you. Enjoy!
On another note, I recently read a report from the October 18, 1893, issue of The State of Columbia, South Carolina:
A graveyard is not a very cheerful place for courtship. Yet there seems to be a good deal of billing and cooing going on in the Northwood cemetery at Germantown, Pa. The directors have found it necessary to erect [on a sign] at the entrance these words: "Flirting Prohibited."
Talk about the many levels at which you may enjoy your cemetery visit!
Green-Wood, after a one year trial period, just has launched a new program, Green-aelogy, in which our researchers can unite you with documents and photographs from the cemetery's archives that will help you learn and tell your family story. We have millions of documents–we can tell you who is in your family lot and information about each of them. We might even have your family tree, sent to us by your grandmother a century ago. Or perhaps the letterhead of the family business in 1873. Millions and millions of documents that you will find no where else.
Here are a few recent reports on Green-aelogy:
If you are interested in using this genealogical research service, please get started by filling out this form.