Green-Wood's president, Richard Moylan, has been collecting paintings by artists who are interred at Green-Wood on behalf of our Historic Fund for eight years now. For the 2008 New York Times article about this, "Green-Wood Cemetery Builds A Collection," click here.
Rich recently acquired two very interesting paintings. One is by Letitia Bonnet Hart (1867-1953), whose father, James McDougal Hart (1828-1901), was also a painter.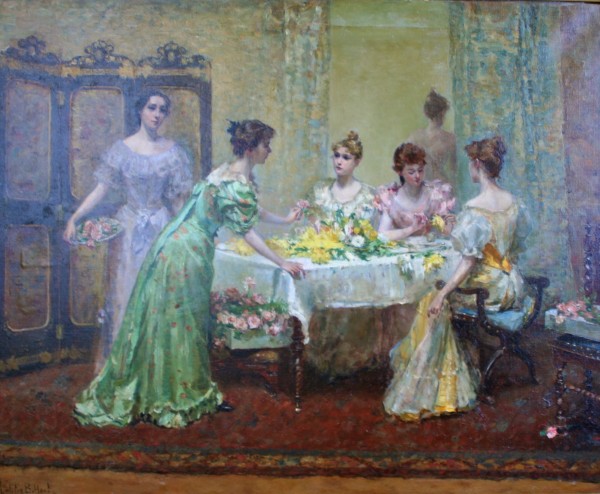 Checking Green-Wood's records, I discovered that Letitia was buried in the same lot as her father, James. I remembered that there was a rather interesting bronze plaque in that lot. So, here is James Hart's gravestone, in the middle of the lot: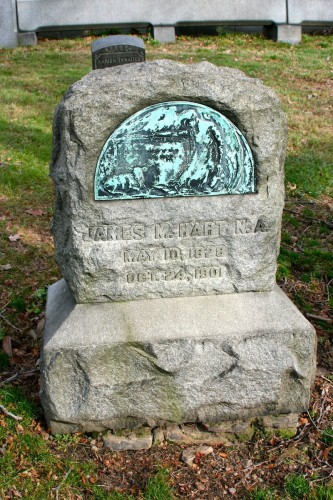 And here is a closer look at the bronze plaque on his gravestone: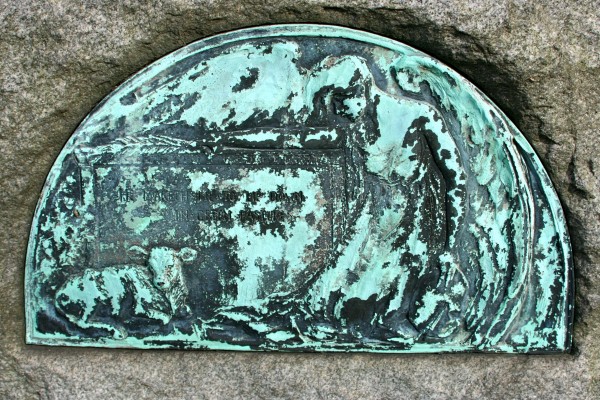 Note the initials at the lower right of the bronze–they appear to be "MTH," for James's and Marie Theresa Gorsuch Hart's daughter (and Letitia's sister), Mary Theresa Hart (1872-1942). Mary Theresa was born in Brooklyn and studied art with her father and then at the National Academy of Design. Also note the cow that is prominently displayed–James Hart's favorite subject for his paintings was cows. Letitia's cremated remains are interred in the front right corner of the lot; those of her sister, Mary Theresa, are in the front left corner. Neither has a marker.
The second painting is by Alfred Henry Maurer (1868-1932). Maurer, whose father, Louis (1832-1932), was also an artist (he worked for many years for Currier and Ives, producing the famous "Life of A Fireman" series for them), worked with his father, then studied painting with William Merritt Chase (1849-1916, and also a Green-Wood permanent resident), as his father had. The style in the painting below very much has been influenced by Chase.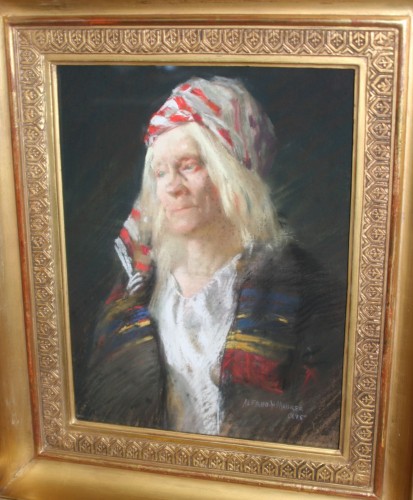 In 1897, Alfred went to study painting in Paris for several years. There he befriended Gertrude Stein, was influenced by Matisse and Cezanne, then almost ten years later started to paint as a cubist and a fauvist. At the cutting edge Armory Show of 1913 (the International Exhibition of Modern Art), Maurer's importance to the art of the time was obvious: he was honored to have four of his cubist paintings exhibited. (By contrast, I recently saw a documentary on Louis Comfort Tiffany; he was crushed when the Armory Show, believing his art was passe, refused to exhibit any of his work).
I recalled having been out to Maurer's Green-Wood lot two years ago to take a photograph of it for an exhibition we did on our painters and their paintings. And, I remembered having found the lot, but being unable to find a gravestone for Alfred. At the time, I assumed that this was because, just weeks after his father's death, he had committed suicide (Alfred spent much of his life seeking the approval of his father; his father was proud of his early work, but did not approve of his later styles), and therefore perhaps his family had not marked his grave. Well, when I went out to photograph the lot again, here's what I found: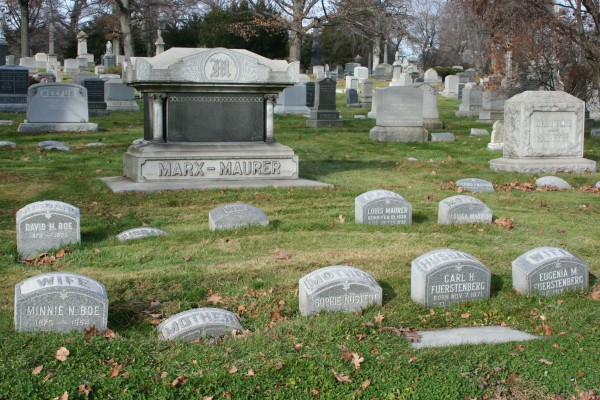 So, I thought, that was the best I could do. But, then, taking another look, I noticed a gravestone in the far right back corner of the lot, at the boundary with the next lot over on the right. And when I walked over to that gravestone, I discovered that it was Alfred Maurer's gravestone, toppled over. That day I spoke with Rich Sneddon, who is in charge of the Grave Department, and asked him to stand Alfred's gravestone back up and to replace it in its proper spot. Just a few days later, Rich reported that the stone had been moved about two feet to the left from where he had been laying, and was now back upright in the Maurer lot, above Alfred Maurer's remains.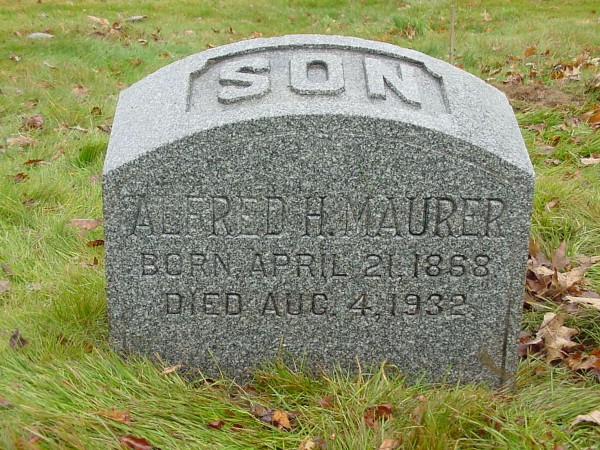 Thanks to art consultant Patrick Orbe for his help with this.