We continue to collect on behalf of our Green-Wood Historic Fund–items pertaining to Green-Wood itself (historic photographs, maps, guides, etc.) and those that help us tell the story of our permanent residents.
As an earlier post noted, Walter Dorwin Teague (1883-1960) was one of the giants of 20th century industrial design. His remains lie in a crypt at Green-Wood. Teague worked for Kodak, Polaroid, and many other manufacturers, including Sparton Radios. In 1935, Sparton announced that they would soon be unveiling a "revolutionary" line of radios designed by Teague. Here is the advertisement that they ran: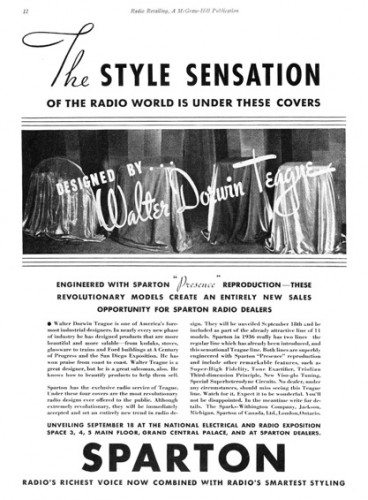 The four radios were unveiled, to great excitement, on September 18, 1935, at a trade show at Grand Central Terminal in Manhattan. They have been a sensation ever since.
We just added two of the radios that were unveiled that date to our collections. Here is the first: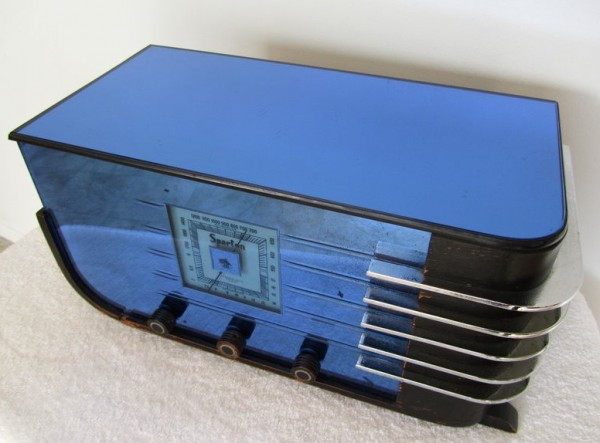 It is a 1936 Sparton model 557 cobalt blue etched glass mirror with chrome fins–just a great Art Deco piece. It is quite a large piece–17 inches across. And check out the five chrome fins the bend around the right side–wow!
Interestingly enough, in looking at my earlier blog post on Teague, I included a photograph of a radio that is very similar in design to the one above (but a different color) as an example of Teague's finest work. And now we own one!
We also recently purchased another of these Teague-designed radios. It is a Bluebird 566, glass mirrored, also designed for Sparton as part of their 1936 line. It is widely-considered a masterpiece of Art Deco design.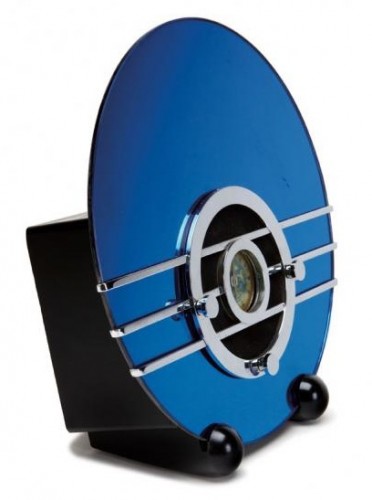 The Bluebird features blue mirrored glass (a 14″ circle), chrome details, and two ebony ball feet, all concealing the radio cabinet, with its tubes and capacitors, behind. It retailed for $39.95 in 1936, quite a substantial sum during the Depression, and was made through 1940. Both The Metropolitan Museum and the Milwaukee Museum of Art have Bluebirds in their collections. And, we are proud to note, now so does The Green-Wood Historic Fund.